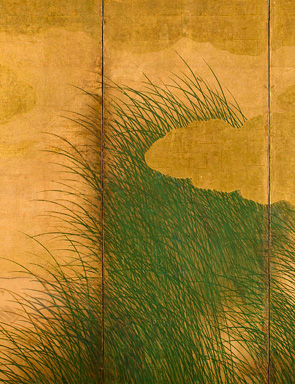 Pair of 6-panel screens of Mt. Fuji and Musashino grasses, early 17th century. Pre-sale est. $50,000-70,000. Photo: Bonhams
NEW YORK, NY.- Bonhams will be participating in Asia Week 2012, which brings together a variety of art outlets to celebrate Asian art from China, India, Japan, Korea, the Himalayas and Southeast Asia. Bonhams will highlight this week with three previews and auctions located at its New York headquarters at 580 Madison.

Bonhams will offer a choice selection of Japanese art on March 20, with highlights featuring a private collection of superb lacquer from a California collector, along with Meiji ceramics by Yabu Meizan and other studio ceramic artists. A fine group of cloisonné enamels will also be offered, including works by Namikawa Yasuyuki and Hayashi Kodenji. Bonhams will also show a second selection of prints and oil paintings conceived by the iconic printmaker Yoshida Hiroshi (1876-1950), following the strong results generated in the Bonhams Japanese sale last autumn. This single-owner catalog will consist of some 43 works in oil and 300 prints.

The netsuke and lacquer section will feature pieces from several prominent private collections, including selections from the collection of author John D. MacDonald (1916-1986), well-known writer of the mystery fiction series Travis McGee and the award-wining Cape Fear. A top highlight from this section of the sale is a gold lacquer writing box and table (pre-sale est. $30,000-40,000), decorated with scenes from the Battle of Osaka, the final chapter in the epic struggle for a consolidated peace in Japan. Rendered entirely in togidashi lacquer techniques, this charming writing set brings to life scenes from Japan's glorious past.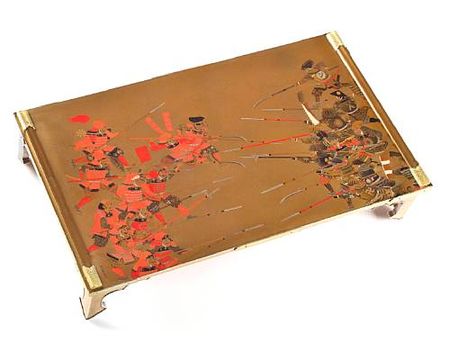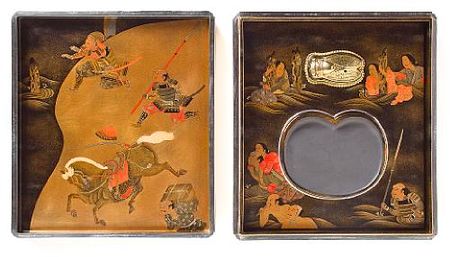 An impressive gold-lacquer writing box (suzuribako) and matching table (bundai). By Unryuan (Kitamura Tatsuo, b. 1952). Photo Bonhams
The box and table both lavishly decorated in
iroe togidashi
against a
fundame
ground depicting scenes from the epic Summer Battle of Osaka; the writing box designed on the cover with the mounted warriors of Matsudaira Tadanao as they advance on the troops of Sanada Yukimura, the underside decorated with the defeated troops and civilians of Osaka castle fleeing into the river, the writing box fitted with a kidney-shaped ink stone and a gilt-silver water dropper cast and carved as a ciccada and set into a silver saucer; rims silver, signed beneath the removeable tray
Unryuan
and
kao
The writing table designed with the troops of the Sanada and Matsudaira clans as they rush to do battle, the hardware silver finished in a stippled surface, signed
Unryuan
and with
kao
Each piece with a wood storage box inscribed in the cover
Sengoku gassen suzuribako
and
Sengoku gassen bundai
and signed and sealed
Unryuan
and with
kao
; and an outer wood storage box designed to hold both storage boxes, laquered green and inscribed on the exterior
Sengoku gassen bun suzuri
in gold lacquer
Writing box 6 5/8 x 5 7/8 x 1 1/2in (16.8 x 15 x 6.4cm); writing table 16 3/8 x 9 1/4 x 3 3/8in (41.6 x 23.5 x 8.5cm) -
Estimate: US$30,000 - 40,000
Exhibited: Barry Davies Oriental Art, London "Contemporary Lacquer: Unryuan, The New Generation", 1993.6

Published: Contemporary Lacquer: Unryuan, The New Generation, exh. cat. (London: Barry Davies Oriental Art, 1993), no. 28.

The Osaka Summer Battle, 1615, was the deciding episode in the series of battles that took place during the year-long Siege of Osaka Castle. Here, the forces of Tokugawa Ieyasu (1543-1616) defeated those of Toyotomi Hideyori (1593-1615) effectively removing the final obstacle in the Tokugawa clan's bid for consolidated power and ultimate rule of Japan.

Unryuan was born in Wajima-city, Ishikawa Prefecture, an area famous for its lacquer ware. At an early age he began a long apprenticeship to a local lacquer artist and learned a solid foundation in the various techniques used in traditional lacquer production. As he matured, he developed an even greater devotion to the classical styles and techniques in lacquer ware.
Today he is considered one of the greatest living lacquer artists and his work is found in some of the most important Museums and private collections worldwide.
Another important highlight of the sale is a pair of fine early 17th century six-panel screens (pre-sale est. $50,000-70,000), depicting a view of Mt. Fuji obscured by clouds, and a scene of the grasses of Mt. Yoshino punctuated with a bridge. This highly stylized treatment of Japan's most recognizable landmark conveys the majesty and size of the mountain in a manner approaching the abstract. These screens will be featured in the painting section of the sale, which also include several masterfully painted folding screens depicting landscapes, animals and pastoral scenes.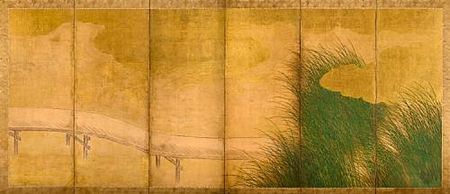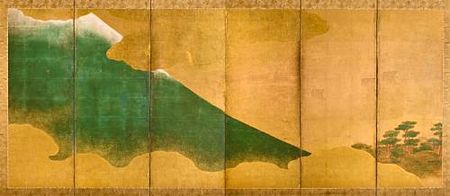 Anonymous (17th century), Mt. Fuji and Musashino grasses. Photo Bonhams
Pair of six-panel screens; ink, color, gold and gold leaf on paper 58 x 140 3/16in (147.3 x 356cm) each - Estimate: US$50,000 - 70,000
Note: The pair of screens depicts two famous places in Japan (meisho-e): Mt. Fuji with the pine groves at Matsubara and the grasses of Musashino.
The artist renders a dramatic and evocative image of Fuji, providing only a partial view of its slope, truncating the mountain so that it appears to extend above and below the frame, with gold clouds in the foreground enhancing the visual effect. The gently sloping mountainside leads the eye rightward to Miho no Matsubara, famous for its beautiful pines, elegant white beaches and the spectacular view of Mt. Fuji that may be seen from its shores.
Once known as a vast plain covered with undulating autumn grasses, today Musashino is a northern suburb of Tokyo: first mentioned in a poem from the eighth century and evoking ever since the melancholic sighs of autumn.

The juxtaposition of these two sites is rather unusual. It may be an oblique reference to two famous episodes from the 10th century Tales of Ise, Azumakudari(episode 12) and Musashino (episode 9), beloved subjects among Japanese artists. Azumakudari tells of the hero's journey to the east and the difficulty of leaving his loved ones in the capital. In Musashino, a young man abducts his lover and flees, pursued by village authorities. The couple finds temporary safety among the wild grasses of Musashino until those grasses are set aflame by their pursuers.

Both Fuji and Musashino are rich with seasonal and poetic associations. The artist may thus be alluding to these by deliberately omitting some of the traditional motifs associated with the Ise chapters (the hero on horseback with his attendants, in Akutagawa; the moon, in Musashino).

Although the artist of this stunning pair of screens is unknown, the remarkable compositions and emphasis on the use of malachite green is reminiscent of the Rinpa school, known for works of expressive designs and dazzling beauty.
The Fine Japanese Works of Art auction will be on preview at the New York headquarters of Bonhams from March 15-19.