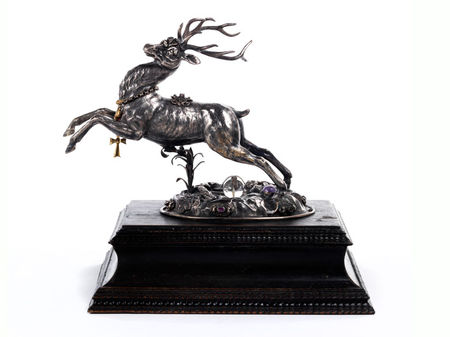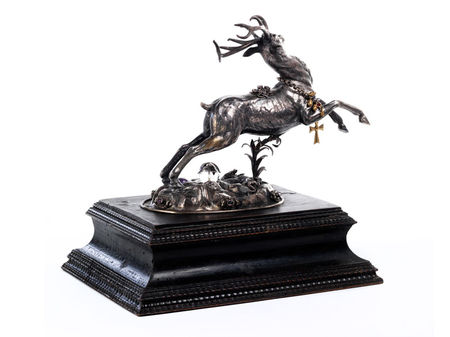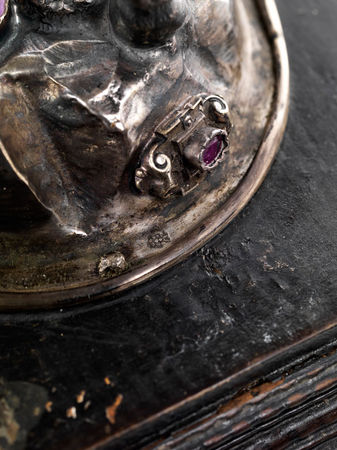 Rare Augsburg silver leaping deer. Augsburger mark, 1640 -1645. Photo Hampel
The deer stands with both hind legs in jumping to the left on a helped shape, in silver-driven and molded rock base, filled with animals such as frogs and lizards, as well as broader semi-precious stones as well as including a gemugelter, large amethyst and a spherical rock crystal in the form of a fruit with drooping leaves . Between scrollwork cartouches with stones. The body of the animal supported by a plant stalk, which pulls up to the belly.Neck and head taken back in the jump, with the antlers of a ten-Enders. Roll small cartouches with semi-precious stones also on the front page and on the back of the animal. Turned over to his neck a chain with gold-plated acorn crops and a hanging cross. The fur of the animal represented by strichelnde hallmark. The oval base encircled by a round rod. Silver, wrought, cast and engraved. The square ebonized wooden base, with rotating flame strips.
Estimate € 10.000 - 12.000
Literature: See Helmut Seling, The Art of the Augsburg goldsmith, Supplement to Volume III, Munich 1994, No. 64

Opinion: The object is an expert appraisals added in 2006.
Hampel. Friday, 23 march 2012. http://www.hampel-auctions.com/