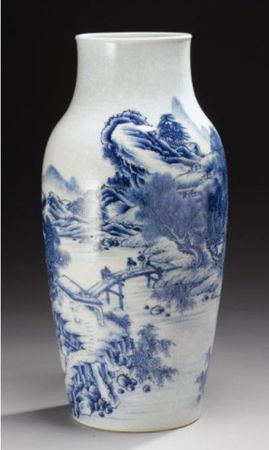 A rare blue and white soft-paste vase. Qing dynasty, Kangxi period. Photo Sotheby's
of tall oviform shape with rounded sides tapering to a flat foot and rising from the rounded shoulders to a waisted neck with everted rim, exquisitely painted in sapphire-toned underglaze blue on a soft white ground enmeshed overall by a fine craquelure with a continuous landscape depicting a boatmen ferrying passengers across a river, peasants on a bridge carrying bundles and two scholars conversing within a pavilion all amidst lush foliage, craggy rockwork and calm waters and backed by a rocky mountainous view, with modern fitted stand and cover (3). Height 15 1/2 in., 40 cm. Estimate 25,000-35,000 USD. Lot Sold: 104,500 USD
PROVENANCE: President Herbert C. Hoover (1874-1964).
Mr. Allan Hoover.
Ralph M. Chait Galleries, Inc., New York.
NOTE: President Herbert Hoover and his wife, Lou, created a very fine collection of Chinese blue and white porcelain. The collection began while they lived in China around 1900 where he was employed as a mining engineer in Tianjin, and became a lifelong passion. At one point there were over 400 pieces in their collection. The president continued adding to the collection until his death in 1964 which was some twenty years after his wife's passing. At that time many of the pieces went to the family while others may be seen today at the Herbert Hoover Presidential Library and useum in West Branch, Iowa.
Sotheby's. Fine Chinese Ceramics & Works of Art. New York | 20 Mar 2012 www.sothebys.com