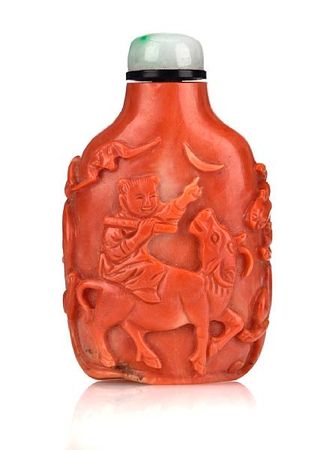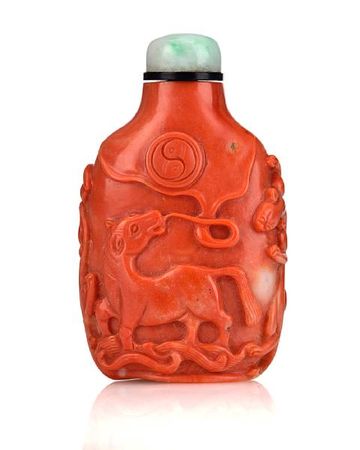 A carved coral snuff bottle, 1850-1920. Photo Bonhams
Of rounded rectangular form with a flat lip, the body carved in high relief with a boy gesturing to the moon while riding an ox, reversed by a longma exhaling a vaporous cloud bearing a symbol of yin and yang, the sides each with a chi dragon whose entwined tails form the foot rim, the coral a salmon color with white splashes. 2 3/8in (6cm) high. Sold for US$13,750
珊瑚刻龍馬吐雲鼻煙壺
Provenance: :
Dennis G. Crow Ltd., 1993
Property of Dr. Martin Roshco
Illustrated:
Dennis G. Crow Ltd
A Catalogue of Chinese Snuff Bottles
,Los Angeles, 1992. no. 48.
The longma or 'dragon horse' is one of many mythological beasts in the Chinese popular folklore. According to the Shujing the longma "A dragon horse is the vital spirit (qi) of Heaven and Earth. As a being its shape consists of a horse's body, yet it has dragon scales. Therefore it is called 'dragon horse'. . . A true dragon horse has wings at its sides and walks upon the water without sinking. If a holy man is on the throne it comes out of the midst of the Ming river, carrying a map on its back."
Bonhams. Fine Chinese Snuff Bottles, 20 Mar 2012 New York www.bonhams.com