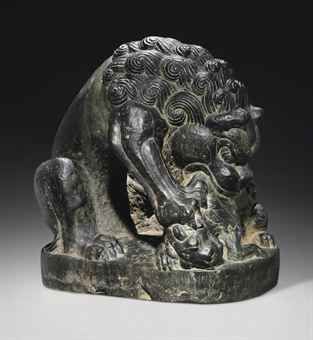 A magnificent carved black limestone figure of a lion and prey. Tang dynasty (618-907). Photo: Christie's Images Ltd 2012
Shown attacking its prey with a focused determination, the lion seated on an oval base with its jaws tightly closed around a lifeless four-legged beast, the eyes with a violent intensity positioned beneath a pair of thick brows and pricked ears, its mane precisely carved in five rows of curled striated locks, and the body held in a tense posture revealing the strong musculature through the legs and back, the long tail wrapped around the left leg and dramatically whipping around in a flourish of energy and excitement; 11¼ in. (28.5 cm.) high, wood base. Estimate $300,000 - $500,000. Price Realized $458,500
唐 石灰岩雕獅噬獸像
Provenance: Sotheby Parke Bernet, Inc., New York, 1-2 June 1977, lot 371, and illustrated on the cover.
Eskenazi Ltd., London.
Literature
:
China Institute.
Selections of Chinese Art from Private Collections
, New York, 1987, pp. 88-9.
"Making Use of Pure Blessings, Sixty Years of the China Institute in America,"
Orientations
, October 1986, pp. 57-63.
Exhibited
:
Ancient Chinese Sculpture
, Eskenazi, Ltd., London, 14 June - 22 July 1978, no. 4.
Selections of Chinese Art from Private Collections
, China Institute, New York, October 18, 1986 - January 4, 1987.
Notes: The lion is well-represented in Buddhist art of the Tang dynasty. Its roar was said to represent the dissemination of the Buddhist scriptures. In their role as guardian figures they can be found not only lining spirit roads which lead to imperial tombs, but also in pairs in tombs, such as the pair of small marble lions found guarding the front room of the underground hoard of Buddhist relics at the Famen Temple. See Famen Temple, Shanxi, 1990, pp. 164-167. Much more rare, however, are secular depictions of stone lions carved in the round, and few extant examples are known.
Stylistically, the present lion group is most similar to the smaller (15.2 cm.) black limestone example formerly in the Eurmorfopolous Collection, and now in the Louvre, illustrated by O. Siren in Chinese Sculpture from the Fifth to the Fourteenth Century, Thailand, 1998 reprint, pl. 435 (b), where the author identifies the smaller animal as a sheep. Another lion and sheep group, although carved from grey limestone, from the David Weill collection, Paris, is illustrated ibid., pl. 435 (a). Two further related examples in various poses are also illustrated p. 435 (c and d), and the author attributes the entire group to the Shaanxi region. However, of all of the published examples, the present example appears to be the largest and most powerfully and sensitively carved.