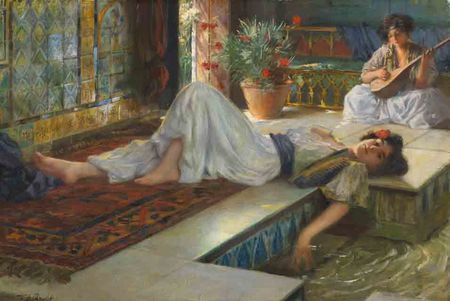 Ferdinand Max Bredt, 1860, Muße der Odalisken. Estimate: 30,000 EUR / 39,600 $

MUNICH.- With Ferdinand Max Bredt's oil painting "Muße der Odalisken" (Leisure of the Odalisques) a masterpiece of oriental painting will be called up at Ketterer Kunst in Munich on 26 April, 2012.
A harem lady should be dressed chastely and by no means tantalizing. Despite the two odalisques' ostensible innocence, the Leipzig painter Ferdinand Max Bredt masterly manages to animate the observer's imagination just through the look of the reclined lady. The estimate for the work from the late 19th century is at € 30.000-40.000
Ferdinand Max Bredt, 1860, Muße der Odalisken. Estimate: 30,000 EUR / 39,600 $. Photo Ketterer Kunst
Oil a firm cardboard. Signed lower left. 50 x 79,5 cm (19,6 x 31,2 in).

PROVENANCE: Acquired in 1932, ever since in Southern German possession.

The Leipzig native Ferdinand Max Bredt had learned the trade of a book dealer before he studied painting at the academies of Munich and Stuttgart, among others, under Wilhelm Lindenschmit. He rendered his impressions of numerous journeys through Turkey, Greece and Tunisia in his works, which made him a successful orient painter. His works were shown in Berlin, London, Paris and Chicago, his oriental motifs, nudes and fairy tale scenes were particularly popular. But he also showed an interest in oriental architecture: he build his studio and residence in Ruhpolding in Arabian style and contributed to the oriental design of a public bath in Stuttgart.

The "Muße der Odalisken" (Leisure of the Odalisques) shows a scene of two jolly young harem ladies, so-called odalisques, in a splendid room in a palace with oriental tiles, carpets and a shallow basin. Sunlight falls in through an opened door which leads into a garden, bathing the whole scene in a charming interplay of light and shade, which, at the same time, emanates an atmosphere of both a refreshing breeze and gentle warmth. One of the two women plays an oriental lute in the background, the Komuz, the other one, the painting's main figure, reclines on the carpet, one hand in the water for refreshment, her eyes towards the observer. With great poise Bredt manages to add a seducing-sensuous notion to this seemingly innocent scene of the two chastely dressed ladies, simply by means of the reclined odalisque's open look, allowing the observer to make her object of projection. [CB].
While Edmund Herger's oil painting "Landsknechte verteilen Beutestücke" (Lansquenets Dividing the Loot) from 1882, estimated at € 40.000-60.000 is in strong contrast to the lovely scene, Franz von Stuck's bronze "Adam und Eva" obviously seeks to seduce the observer, as the artist rendered the biblical scene as an erotic theme. To Adam, Eve's promising body is the actual object of desire and the apple, the forbidden fruit from the tree of knowledge of good and evil merely serves as a metaphor. The observer is also seduced: Both the bodies' athletic and sensual forms but also the modest estimate of € 30.000-50.000 will have the desired effect.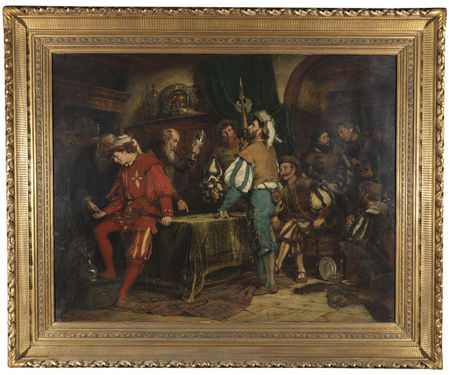 Edmund Herger, Landsknechte verhandeln Beutestücke. 1882. Estimate: 40,000 EUR / 52,800 $. Photo Ketterer Kunst
Oil on canvas. Signed, inscribed and dated "W.[eimar] 82" lower left. 122 x 156 cm (48 x 61,4 in), with splendid gold frame of ca. 20 cm.
Titled and inscribed on verso of canvas. With exhibition label on verso fo frame, as well as with fragments of a label, numbers as well as illegible customs stamp.

EXHIBITION: International art exhibition in the 'Königliche Glaspalast' in Munich 1883, p. 56, cat. no. 834 (with label on verso fo frame, however, there with number no. 773).

LITERATURE: Thieme-Becker, Allgemeines Lexikon der Bildenden Künste, Leipzig 1923, vol. 16, p. 463.

"Edmund Herger, son of a Protestant church painter, studied in Weimar under the painters Albert Heinrich Brendel and Max Thedy from 1872 to 1878. In 1886 he made the Apse fresco for the St. Nicholas Church in Bad Blankenburg in the Thuringian Forest [..] as well as the 'Historienreigen' a work with important personalities from the church and world history. [..] In 1887 he was accepted [at the Munich Art Academy] into the composition class of Franz von Defregger. He completed the academy in 1891 and stayed in Munich, participating in several exhibitions in the 'Glaspalast' as of 1883 as well as in academy axhibitions and some 'Großen Kunstausstellungen' in Berlin as of 1884. In May of 1907 the Munich Art Association organized an estate exhibition where some 83 paintings and studies by the artist were shown. Herger was a very versatile painter and etcher. […] He was strongly influenced by his teacher Franz von Defregger, but also by Wilhelm Leibl, Arnold Böcklin, Anton Braith and Eduard von Grützner. Herger painted interior scenes of, for example, farm houses, castles and monasteries, landscapes and genre scenes, but also animals – often with a humorous wink – and flowers. Herger's figures are vividly modeled, often rendered in idealized manner. The earthen tone of his pictures shows the influence of Franz von Defregger, light is employed to add atmosphere to the interior scenes." (Transl. of quote by Sonja Baranow, in: Münchner Maler im 19. Jahrhundert, 2nd vol., 149 ff.).

In the depiction of the landsquents Edmund Herger put great emphasis on a realistic renderings of the different cloths and materials. The historic dresses with decorative feathers on the broad barrettes, the dark green velvet blanket, the bearskin and the colorful carpet almost seem tangible, just as it is the case with the shiny cold surfaces of the silver cups, plates, coins and the halberd. The scene is dominated by the two landsquents in center, their gaudy extravagant costumes in lucent red and blue green with dagged and puffed sleeves and pants clearly contrast the background. By means of this delicate illustration and also with the help of the large format and the opulent gold frame, Herger created a painting with a grand and wonderfully sublime and luxurious character. [CB].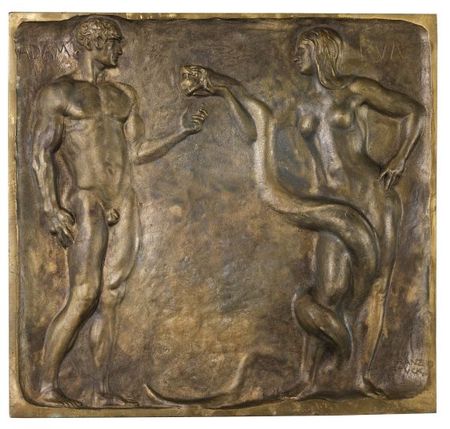 Franz von Stuck (1863 Tettenweis - 1928 München), Adam und Eva. 1893. Estimate: 30,000 EUR / 39,600 $. Photo Ketterer Kunst
Bronze. Inscribed "FRANZ STUCK" lower right. Inscribed "ADAM" und "EVA" upper left and right. 73 x 68,5 x 3,5 cm (28,7 x 26,9 x 1,3 in).
In comparison with his oeuvre of painting, the sculptures by Franz von Stuck, some 12 small bronzes and 7 reliefs and some decorative relief works for his residence and studio, the Villa Stuck in Munich, occupy a rather small section of his overall creation. Themes addressed by his sculptures follow those of his paintings, as do the then popular motifs: Figures from Greek and Roman mythology, dancers and athletes. To Stuck the gypsum and bronze works are a decorative component within an overall concept that integrates paintings and sculpting. Unlike his paintings, which were often met with criticism, the response to his sculptures were positive from the beginning on. This was definitely largely owed to the fact that he, unlike other sculptors in those days, chose more traditional forms of depiction. It was not before the 1890s that Stuck made his first sculpting works public, the relief "Adam und Eva" was presumably made around 1893.
Before Stuck had been occupied with the biblical theme of the expulsion from Eden. In 1889 he made the painting "Der Wächter des Paradieses" (Guards of Eden, still without the figures of Adam and Eve), he executed two other variants with the couple in 1890 ("Das verlorene Paradies", Paradise Lost) and 1891 ("Vertreibung aus dem Paradies", Expulsion from Eden). Stuck repeated the latter composition in large format in 1897 and showed it on the International Art Exhibition in the Munich 'Glaspalast'. The incident that led to the expulsion from Eden, the fall of man, was presumably depicted by Stuck around 1891 for the first time in the painting "Versuchung" (Temptation). In doing so, he approached the biblical scene, as it was characteristic of the old masters, from an erotic angle. To Adam Eve's body is the actual object of desire; the apple, the forbidden fruit from the tree of the knowledge, merely serves the purpose of an old-fashioned metaphor (cf. Thomas Raff, Christliche Themen im Werk Franz von Stucks, ex. cat. Tennenweis 2005, p. 16). The painting shows the figures laterally reversed to the relief, the tree of knowledge is dominating the scene's background, however, its trunk in the center of the picture, around which the snake is curling, separates the couple. Stuck simplified the depiction in the relief he made a short time later: He depicts the athletic Adam on the left side and a stylized Eve with snake and apple on the right side and focuses on the sensual form of the body and its effect. Just as it was the case with some of his paintings, he inscribed the figure's on the relief with "ADAM" and "EVA". He repeated this reduced version in two paintings in 1912, with a slightly altered Adam depicted as a rear nude (one of them is in possession of the Landesmuseum Mainz today). Two gypsum casts of the early relief are known of, this version in bronze was, truly in line with Stuck's philosophy, part of the facade decoration of a residential villa in Munich Bogenhausen, not far from the artist's residence, the Villa Stuck. [CB].
Quite a contrast to the sinful and lascivious Eve is Stuck's "Amazon" cast in bronze. In this work the artist put less of an emphasis on eroticism but rather on the athletic aspect of the spear-throwing warrior. Despite her nudity, she emanates power, self-confidence and pride in a very natural manner. The estimate for the small work, a monumental execution has been adorning the portal of the Villa Stuck in Munich since 1936, is at € 14.000-18.000.
Franz von Stuck (1863 Tettenweis - 1928 München), Amazone. 1897. Estimate: 14,000 EUR / 18,480 $. Photo Ketterer Kunst
Bronze, patinated in black and brown. Inscribed "Franz von Stuck" at top of base. With foundry mark "Guss C. Leyer München" in left of base's upper edge. 36 x 48 x 14 cm (14,1 x 18,8 x 5,5 in). Measurements of base: 28 x 34 x 17,3 cm (11 x 13,4 x 6,8 in). Posthumous cast.

The "Reitende Amazone" (Riding Amazon) presumably is the most famous plastic work by Franz von Stuck, earning the artist great fame as a sculptor. Unlike many of his other depictions of females, for which he chose mostly sensual and tender dancers or sinful lascivious seductresses, he resorted to the Amazons from Greek mythology in 1897. In doing so Stuck less emphasized the athletic expression of the spear-welding warrior. Despite all nudity, she emanates a natural sense of strength, pugnacity and pride. For the decoration of the Amazon's helm Stuck used motifs from an ancient Athena head, which was in his own vast collection of ancient casts. A monumental execution of the Amazon has been in front of the portico of the Villa Stuck, the residence and studio in Munich the artist had designed himself, since 1936. [CB].
More exciting works in the section of Art of the 19th Century come from Hermann Corrodi with his oil painting "Nächtlicher Aufstieg am Berg Athos" (Nocturnal Ascension of Mount Athos) from 1880, (estimate: € 25.000-35.000), Carl Spitzweg and the "Grotte mit badenden Nymphen" (Grotto with Bathing Nymphs, estimate: € 18.000-24.000) and from Henri-Edmond Cross with his "Skabiosen" (Scabiosa, estimate: € 14.000-18.000). Other artists represented are, among others, Albert Flamm, Max Klinger, Adolph von Menzel, Wilhelm Schlesinger und Julius Steinkopf. The range of offers is completed by a small but nice collection of works by Friedrich Preller the Younger. Along with two drawings, half a dozen of oil paintigns with estimates between € 800 and € 8.000 will be called up.
The section of Old Masters is led by a "Kreuzigungsgruppe" (Crucifixion Group) from the studio of Lucas Cranach the Elder. An infrared reflectography of the work from around 1510 to 1520 shows a free preliminary drawing of the motif, which is characteristic of the Cranach-studio. The oil painting in a size of 43 x 28,5 cm will be called up with an estimate of € 30.000-50.000.
Lucas Cranach d. Ä. (1472 Kronach - 1553 Weimar), Werkstatt oder Umkreis - Kreuzigungsgruppe. 1510. Estimate: 30,000 EUR / 39,600 $. Photo Ketterer Kunst
Oil on panel, glued to pinewood plate. 28,5 x 43 cm (11,2 x 16,9 in).

We are grateful to Dr. Michael Hofbauer, cranach research institute, Heidelberg, as well as Prof. Dr. Dieter Koepplin, Basel, for their expert advice.

PROVENANCE: Private collection Southern Germany.
The triptych "Anbetung der Könige" (Adoration of the Kings), made in succession of Pieter I Coecke van Aelst, will definitely make for excitement in the auction room. The elaborate painting, particular in terms of the architectural staging, was made towards the end of the 16th century and has been estimated at € 20.000-30.000.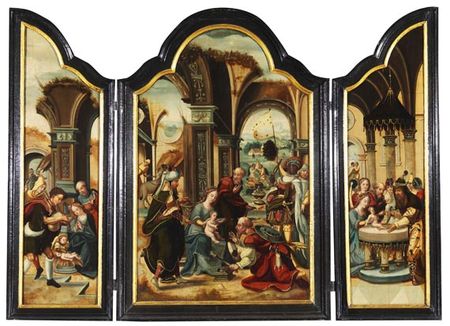 Pieter I Coecke van Aelst, Nachfolger - Triptychon mit der Anbetung der Könige. Auf den Seitenflügeln die Anbetung der Hirten und die Darbringung im Tempel. Estimate: 20,000 EUR / 26,400 $. Photo Ketterer Kunst
Oil on panel. With frame in opened condition: 103 x 140 cm (40,5 x 55,1 in).

Approximately the same is expected for two companion piece of an idealized river landscape in summer by Pierre-Antoine Marchais from 1785, that have been estimated at € 12.000-15.000 each. Works by the Parisian artist, who lived in his hometown for all his life, are in possession of, among others, museums in Toulouse and Nantes.
Pierre-Antoine Marchais, Sommerliche Flusslandschaft mit klassischen Ruinen. 1785. Estimate: 12,000 EUR / 15,840 $. Photo Ketterer Kunst
Oil on canvas. Monogrammed "P.A.M" in left on rocks below pilar. 89 x 137 cm (35 x 53,9 in). [CB].

PROVENANCE: In 1971 acquired from Jeremy Ltd., London.
Private ownership Northern Germany.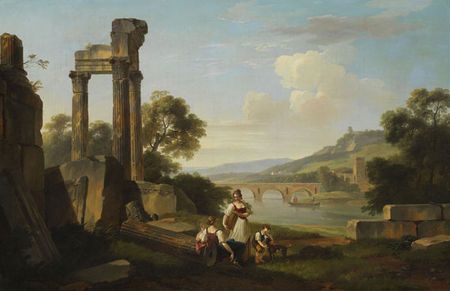 Pierre-Antoine Marchais, Sommerliche Flußlandschaft mit Tempelruine. 1785. Estimate: 12,000 EUR / 15,840 $. Photo Ketterer Kunst
Oil on canvas. Monogrammed "P.A.M." in rocks in lower right. 89 x 137 cm (35 x 53,9 in).

PROVENANCE: In 1971 acquired from Jeremy Ltd., London.
Private ownership Northern Germany.

Marchais was born in Paris in 1763 and lived in his hometown all his life. He specialized in landscape painting and was supported and influenced by his paternal friend Hubert Robert. He showed first works at the Paris Salon in 1793 and participated in following exhibitions up until 1849. The more surprising it is that works by Marchais are rarely known. Some are in possession of the Musée des Augustins in Toulouse and the Musée des Beaux Artes in Nantes. The two counterparts offered here show idealized landscapes with rich details and figures. [CB].

While the oil painting "Der Markusplatz in Venedig" (St Mark's Square in Venice), which has been ascribed to Gabriele Bella enters the race with an estimate of € 15.000-20.000, the late 17th century copy of Cristofano Allori's masterpiece "Judith mit dem Haupt des Holofernes" (Judith with Holofernes' Head) will be called up with an estimate of € 18.000-24.000. The work impressively illustrates the contrast between the shiny yellow brocade gown and the anemic facial features of the decapitated. It is a striking document of the fascination that Allori's creation had stirred in the 17th century.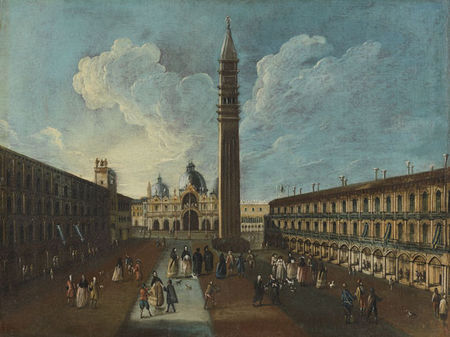 Gabriele Bella, Zugeschrieben - Der Markusplatz in Venedig. Estimate: 15,000 EUR / 19,800 $. Photo Ketterer Kunst
Oil on canvas. 56,5 x 75 cm (22,2 x 29,5 in). [CB].
Cristofano Allori, Nach - Judith mit dem Haupt des Holofernes. Estimate: 18,000 EUR / 23,760 $ Photo Ketterer Kunst
Oil on canvas. 126 x 99,5 cm (49,6 x 39,1 in). Copy after the painting of the same name by Christofano Alloris.

PROVENANCE: Private ownership Southern Germany (acquired in a Florence art shop in the 1930s).

LITERATURE: Cf. Miles L. Chappell (publisher), Christofano Allori. 1577-1621, Florence 1984, S.78-81.

The range of offerings in this section is completed by Gaspar Pieter Verbruggen's oil painting "Großes Blumenstillleben in einer Bronzevase" (Large Flower Still Life in Bronze Vase, estimated at € 12.000-15.000) and with, among others, graphic works by Agostino Carracci, Francisco de Goya, Giovanni Piranesi and Adriaen van Ostade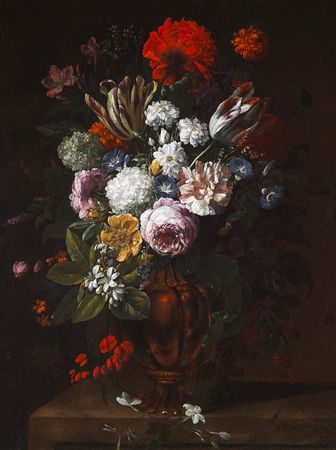 Gaspar Pieter Verbruggen, Großes Blumenstillleben in einer Bronzevase. 1693. Estimate: 12,000 EUR / 15,840 $. Photo Ketterer Kunst
Oil on canvas. Signed and dated lower right. 82 x 62,5 cm (32,2 x 24,6 in). [CB].

Verbruggen was one of the most renowned Flemish flower still life painters in the late 17th century. Trained by his likewise gifted father, the talented son was accepted by the Antwerp painters guild St. Luke at the age of twelve. As early as in 1680, at the age of sixteen, he began to train his first apprentice. The following years he was dean of the guild and was widely acknowledged. However, his exuberant lifestyle was the reason why he had to sell some of his paintings and move to The Hague in 1703 in order to dodge his creditors and did not return to Antwerp before 1723. His often large paintings are usually compositions of opulent flower- garlands or bouquets characterized by a naturalistic richness of details and a brilliant coloring. [CB].