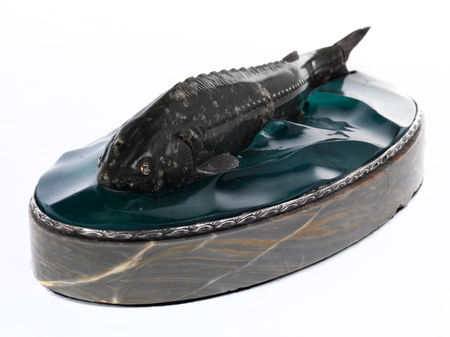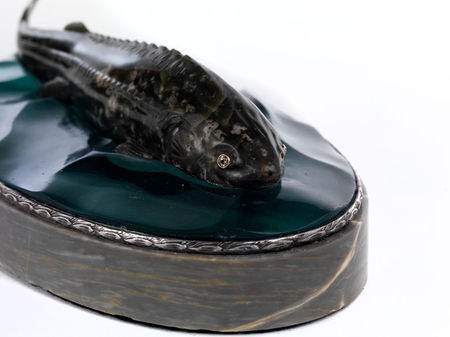 Jade Caviar box by Fabergé. Early 20th Century. Photo Hampel.
Length of base: 21.5 cm. Box length: 25 cm. Fabergé stamp bears and Russian silver mark "84" and maker's mark "HW". In the lid interior padding double eagle stamp with Cyrillic inscription "Fabergé in St. Petersburg, Moscow, London." .Hammer price € 5000

In greenish jade worked sturgeon, which rises on turquoise green glass base in the form of clear water waves, driven by an oval, gray, beige veined marble, glass edging in silver with finely engraved. The tail fin of the fish in silver, the rim of the diamond cut stones in the eyes of gold. In original wooden box with a cream-white velvet and silk lining. The Jades was probably taken as a classy table decoration when serving caviar is used. The wooden box slightly dam.
Hampel. FRIDAY, 23 MARCH 2012. http://www.hampel-auctions.com