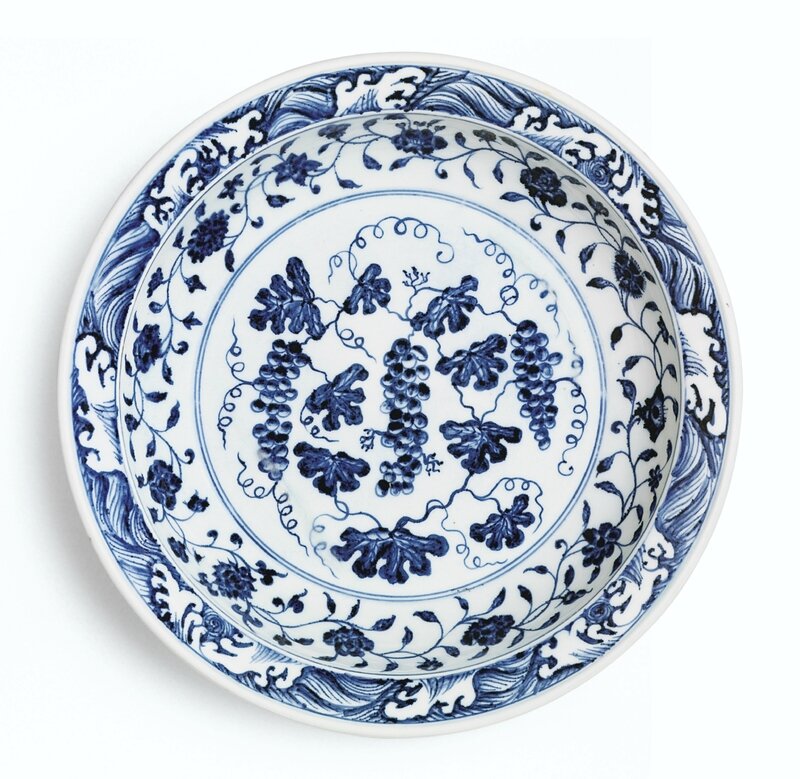 Lot 21. A blue and white 'grape' charger, Ming Dynasty, Yongle period (1403-1424); 37 cm., 14 1/2 in. Estimate 4,000,000-6,000,000 HKD. Lot sold 4,820,000 HKD. Photo Sotheby's
with deep rounded sides and an everted rim, painted on the broad flat centre with three pendent bunches of grapes among curling tendrils, broad leaves and withered blossoms, the round ripe grapes shaded in varying cobalt tones creating a three-dimensional effect, surrounded on the cavetto by a composite floral scroll with twelve blooms comprising camellia, peach, chrysanthemum, pomegranate, hibiscus, lotus, rose, herbaceous peony, morning glory, carnation, and another flower, all below the crashing waves border on the rim, the floral register repeated on the exterior in a different order with a second rose replaced by lingzhi, the unglazed base fired with orange specks.
LITERATURE: Regina Krahl, Chinese Ceramics from the Meiyintang Collection, London, 1994-2010, vol. 4, no. 1638.
NOTE: The grape motif is comparatively rare on Chinese works of art as the fruit was mainly grown in Central Asia. It appears in the Tang dynasty (AD 618-907), when the Silk Road enabled a close contact with this region, and re-appeared in the Yuan dynasty (AD 1279-1368), when China again had many economic and cultural ties with the West. In the Yongle period (AD 1403-24), however, the 'grape' design appears to have become rather popular and can also be seen on large dishes with barbed rims or without rims, or on smaller dishes, such as lot 23, as well as on other vessel shapes, often together with other fruits. The present pattern is particularly naturalistic, with bunches of grapes among leaves, tendrils and dried-up blossoms.
Many 'grape' dishes were exported, but they were equally held in the Chinese imperial collection in the Forbidden City, at least in the Qing dynasty. For exported examples, formerly in the Ardabil Shrine and now in the National Museum of Iran, Tehran, see John Alexander Pope, Chinese Porcelains from the Ardebil Shrine, Washington, D.C., 1956, pls. 37- 9, and Misugi Takatoshi, Chinese Porcelain Collections in the Near East: Topkapi and Ardebil, Hong Kong, 1981, vol. III, nos. A 40-42; and others from Topkapi Saray, Istanbul, Turkey, illustrated in Regina Krahl, Chinese Ceramics in the Topkapi Saray Museum, Istanbul, ed. John Ayers, London, 1986, vol. II, nos. 605 and 606; also a dish inscribed with the name of the Mughal Shah Jahan ibn Jahangir Shah (AD 1593-1666) and a date equivalent to AD 1643-4, sold in our London rooms 24th March 1964, lot 96, and now in the Asian Art Museum of San Francisco from the Avery Brundage collection, included in The Asian Art Museum of San Francisco. Selected Works, San Francisco, 1994, p.106.
For examples preserved in the Palace Museum, Beijing, see Geng Baochang, ed., Gugong Bowuyuan cang Ming chu qinghua ci [Early Ming blue-and-white porcelain in the Palace Museum], Beijing, 2002, vol. II, pl. 133, with barbed rim, and pl. 135 of the same form and design as the present piece; and a dish reputedly given by the Empress Dowager Cixi (1835-1908) to Sir Robert Hart, Inspector General of the Imperial Maritime Customs at the Chinese Treaty Ports, on his retirement in 1908, sold in our London rooms, 13th December 1966, lot 79.
Sotheby's. The Meiyintang Collection, Part III - An Important Selection of Imperial Chinese Porcelains. Hong Kong | 04 Apr 2012, 10:15 AM