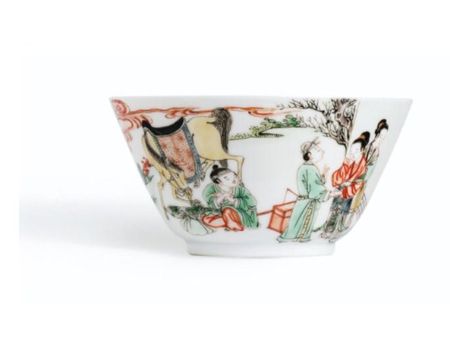 A fine 'West Chamber' Wucai cup. Mark and period of Kangxi. Photo Sotheby's
the slightly rounded conical sides finely painted in red and black outlines with green, red, yellow, blue and aubergine enamels on the exterior, depicting the farewell scene between the scholar Zhang Sheng and his love, Cui Yingying, from the play Xixiangji ('The West Chamber'), the lovers holding hands, while the lady raises a hand to wipe away a tear, accompanied by a maid and an elderly attendant standing next to a wheeled chair, with a young attendant squatting in front of a horse surrounded by a bundle of belongings, a picnic basket and a qin, the interior painted with a red lingzhi among green narcissus leaves, the base inscribed in underglaze blue with a six-character reign mark in a double ring; 8.3 cm., 3 1/4 in. Estimate 1,000,000-1,500,000 HKD. Lot vendu: 5,780,000 HKD
LITTERATURE: Regina Krahl, Chinese Ceramics from the Meiyintang Collection, London, 1994-2010, vol. 4, no. 1741.
NOTE: The cup depicts the farewell scene between the scholar Zhang Sheng and his love, Cui Yingying, before his departure for the capital to compete in the official examinations - condition set by her mother for marrying her. The scene is taken from the play Xixiangji ('The West Chamber'), written by Wang Shifu around AD 1300. Its woodblock illustrations provided the Jingdezhen potters with material for porcelain decoration already in the Yuan dynasty (AD 1279-1368), and in the Kangxi period it again appears to have been popular enough for this artless scene to be universally recognized.
Scenes from popular literature are not usually found on Kangxi imperial porcelains, and cups of this elegant shape are also rarely painted in enamels of the famille verte. They are better known from early examples of the famille rose, with ruby enamel on the outside.
Sotheby's. The Meiyintang Collection, Part III - An Important Selection of Imperial Chinese Porcelains, Hong Kong | 04 avr. 2012 www.sothebys.com