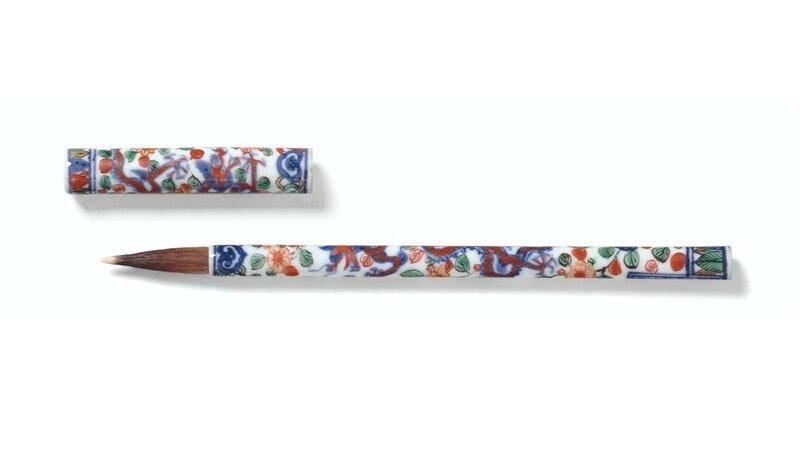 Lot 34. A fine wucai 'dragon' brush handle with cap, Mark and period of Wanli (1573-1620); 22.5 cm., 8 7/8 in. Estimate 600,000-800,000 HKD. Lot sold 2,060,000 HKD. Photo Sotheby's
of slender tubular form painted on the handle with a red five-clawed dragon among scrolling flowers set between ruyi and leaf borders with the end painted in green, the cap similarly painted with a red dragon and a flowerhead at the end of the cap, the handle inscribed in underglaze blue with a six-character reign mark in a vertical cartouche and inserted with brush hair
EXHIBITED: Chinese Ceramics from the Meiyintang Collection, The British Museum, London, 1994.
Evolution to Perfection. Chinese Ceramics from the Meiyintang Collection/ Evolution vers la perfection. Céramiques de Chine de la Collection Meiyintang, Sporting d'Hiver, Monte Carlo, 1996, cat. no. 137.
LITTERATURE: Regina Krahl, Chinese Ceramics from the Meiyintang Collection, London, 1994-2010, vol. 2, no. 711.
NOTE: Brush handles were not usually made of porcelain before the Wanli reign, but more typically of lacquer, wood or bamboo, the Xuande example in this collection, lot 40, representing a rare exception. In the Wanli period a whole series of items was made for the imperial desk and brush handles are known both of this slender cylindrical form and of wider bulbous shape, such as the piece formerly also in the Meiyintang collection, illustrated in Krahl, op. cit., vol. 2, no. 708, and sold in these rooms, 5th October 2011, lot 38.
For a brush handle and a tray like lot 33, in the Fogg Art Museum, Cambridge, Mass., see the exhibition catalogue The Arts of the Ming Dynasty, Detroit Institute of Arts, Detroit, 1952, cat. no. 176. Another brush in the Tokyo National Museum, with the reign mark inscribed on the cap, is published in Kizo Hirota Matsushige korekushon mokuroku / Hirota Collection. Gift of Mr Hirota Matsushige, Tokyo, 1973, no. 310; for one with the mark inscribed horizontally, lacking its cap, in the Yamato Bunkakan, Nara, see Yamato Bunkakan shozhin zuhan mokuroku 7. Chgoku tji /Chinese Ceramics from the Museum Yamato Bunkakan Collection, Illustrated Catalogue Series no. 7, Nara, 1977, no. 152; another with horizontal reign mark, lacking its cap and its tip fitted with a wooden mount for a wider brush, is in the Shanghai Museum, illustrated in Lu Minghua, Shanghai Bowuguan zangpin yanjiu daxi / Studies of the Shanghai Museum Collections : A Series of Monographs. Mingdai guanyao ciqi [Ming imperial porcelain], Shanghai, 2007, pl. 1-98.
Sotheby's. The Meiyintang Collection, Part III - An Important Selection of Imperial Chinese Porcelains, Hong Kong | 04 avr. 2012