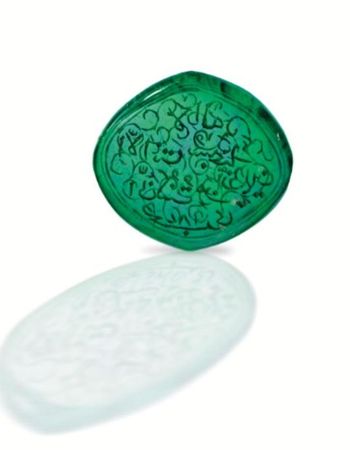 Carved emerald Taviz, 19th century. Photo Sotheby's
Weighing 30.44 carats, measuring approximately 31.58 by 26.86 by 4.80 mm., the back engraved with an Arabic inscription from Chapter XXI, verse 87 of the Koran which, according to one translation, reads: 'There is no God but thou: I was indeed wrong!', the front engraved with a foliate motif, drilled at either end. Lot 52. Estimation 80,000-120,000 USD
NOTE DE CATALOGUE: Accompanied by AGL report no. CS 48156 stating that the emerald is of Classic Colombian origin, clarity enhancement: insignificant, type: traditional; and Gübelin report no. 11055141 stating that the emerald is of Colombian origin, indications of minor clarity enhancement.
The present carved emerald originally formed the centerpiece of a bazuband or armband and was likely set in the Kudan style, backed by gold foil and surrounded by other precious stones such as diamonds and rubies. As a decorative ornament, the bazuband was usually worn in pairs and was an essential part of princely ceremonial attire in India. Miniature paintings from the Mughal period depict emperors laden with pearls and colored gemstones and it is not unusual to find a carved emerald at the center of an important jewel, whether an armband, necklace or turban ornament.
The emeralds from these royal collections were frequently of Colombian origin. This "old mine" material, discovered by the Spanish conquistadors in the 16th century, made its way to India through Spanish and Portuguese trade routes. Before the discovery of these New World deposits, the only known source of emeralds was Egypt. The Egyptian stones, however, were of insignificant size and quality and the Mughal rulers, as great connoisseurs of gems, immediately recognized the superior color and transparency of the Colombian crystals.
Gemstones were far more than adornment for Indian royalty. In addition to being symbols of wealth and power, they carried a mystical significance. The emerald offered here bears an Arabic inscription from the Koran, indicating its use as a taviz or talisman. It was thought that the magical quality inherent to the emerald itself would be augmented by the power of the verse in the carving. Although stones have been engraved since ancient times, Indian lapidaries, entrusted with the finest material such as the present example, possessed the skill to turn gemstones into works of art.
Sotheby's. Magnificent Jewels. New York | 18 avr. 2012, 10:00 AM www.sothebys.com