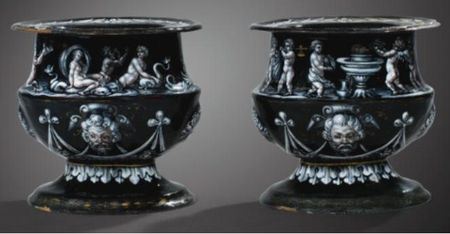 Belle paire de salières ovales. Limoges, milieu du XVIe siècle, Atelier de Pierre Reymond (1513-1584). Photo Sotheby's
A French, Limoges, mid 16th century, pair of painted enamel salt cellars, workshop of Pierre Reymond (1513-1584)
les salières ovales en forme de vases balustre, la panse ornée de masques en haut relief, surmontée du Triomphe de Neptune et Amphitrite pour l'une, des scènes d'un Sacrifice pour l'autre; le bord supérieur orné d'une guirlande de lauriers, à l'intérieur du saleron un profil d'homme et de femme se regardant en face; (quelques manques et repeints); 2.0; en émail peint en grisaille, sur fond noir à carnations roses et rehauts d'or. Haut 10,5 cm; larg. 11 cm; prof. 8,5 cm - Height 9 1/2 in.; width 4 1/4 in; depth 3 1/2 in. - Lot 12. Estimation 20,000-25,000 EUR

REFERENCES BIBLIOGRAPHIQUES: S. Barratte, Les Emaux peints de Limoges, catalogue musée du Louvre, Paris, 2000, p. 264-273.
P. Verdier, Catalogue of the Painted Enamels of the Renaissance,Baltimore ,1967, p.223 - 227, n° 134-135.
NOTE DE CATALOGUE: Une paire de salières datant de 1555, signées Pierre Reymond, sont conservées à la Walters Art Gallery de Baltimore (inv.n°44.340). On y retrouve des portraits d'homme et de femme similaires à l'intérieur du saleron. Deux salières de Reymond au sujet mythologique d'Enée et Didon présentent des éléments de décor aux petits amours agrémentés de rinceaux et de lauriers proche des pièces présentées ici (musée du Louvre inv.n° MR2499
Sotheby's. Important Mobilier, Sculptures et Objets d'Art. Paris | 20 avr. 2012, 02:30 PM www.sothebys.com