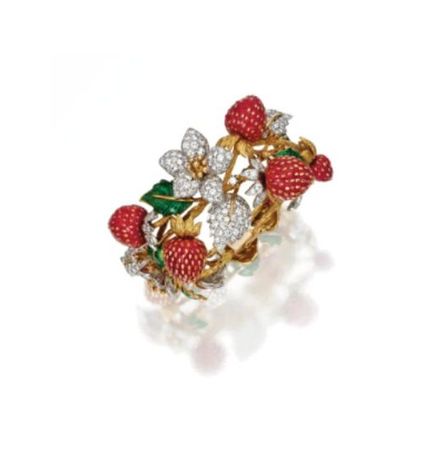 18 karat gold, platinum, diamond, coral and enamel strawberry bracelet, Donald Claflin for Tiffany & Co, circa 1970. Photo Sotheby's
The textured gold vines supporting carved coral strawberries studded with gold seeds, accented by flowers and leaves set with round diamonds weighing approximately 9.00 carats, some leaves applied with translucent green enamel, length 6¾ inches, signed Tiffany & Co. Lot 260. Estimation 30,000-40,000 USD.
Property of the estate of Mrs Walter Matthau
NOTE DE CATALOGUE: Illustrated in Tiffany's 150 Years, by John Loring, p. 168; and in Tiffany Style: 170 Years of Design, by John Loring, p.202.

One of the most innovative jewelry designers of the last century, Donald Claflin got his start in the jewelry business while working for David Webb. In 1965 he left to join Tiffany & Co. where, along with Jean Schlumberger, he became part of a team destined to take American jewelry design in a new direction.
Claflin encouraged his clients to break with tradition and his designs were an immediate hit with a new generation of jewelry collectors. Among his most enduring creations are whimsical characters from children's storybooks, fantasy animals, Zodiac figures and even Chinese acrobats. The jewels were rendered in mixtures of precious and semiprecious stones along with colorful enamels in contrasting textures.
Nature was a constant source of inspiration for Claflin who remarked that he found it to be "an endless source of renewal." In 1968 he began a series of strawberry jewels that were to become among his most iconic creations. His keen observation of nature is evident in every element from the gold seeds in the coral strawberries to the twisting movement of the fruit-bearing vines.
In ancient times, the strawberry was the symbol of Venus, the goddess of love and came to represent goodness, purity and sensuality due to its delectable taste and fragrance.
Sotheby's. Magnificent Jewels. New York | 18 avr. 2012, 10:00 AM www.sothebys.com