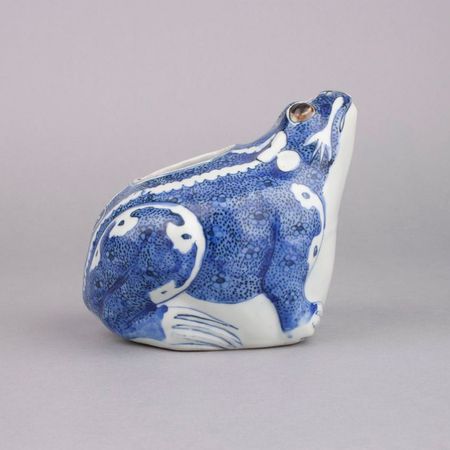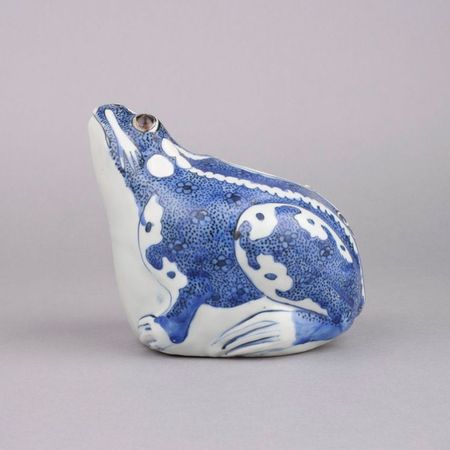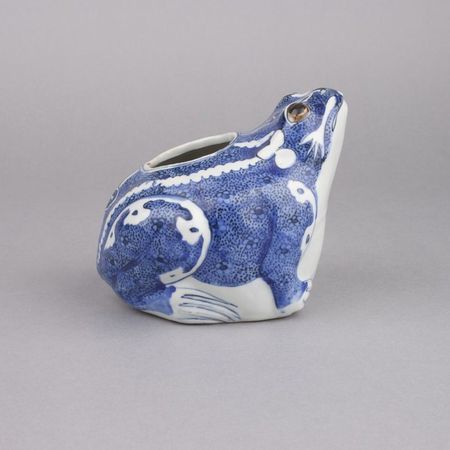 A Chinese porcelain blue and white frog form vessel. Wanli, 1573-1619. Photo Marchant
naturalistically modelled with its head looking up, bulging brown dressed eyes and individual relief toes, the body with prunus flowerheads, on a stippled blue ground, the glazed openwork aperture divided by two ruyi-heads, the unglazed base with an openwork stylized flowerhead and a further aperture. 5 ¼ inches, 13.3cm high. Price on request.
Formerly in an English private collection.
Frog Kendis are well known, two examples are illustrated by Regina Krahl and John Ayers in Chinese Ceramics in the Topkapi Saray Museum, Istanbul, vol. 2, Yuan and Ming Dynasty Porcelains, no. 1296/7, p. 730/1; another is illustrated by John Alexander Pope in Chinese Porcelain from the Ardebil Shrine, no. 29. 465, pl. 97; another is illustrated by Jessica Harrison-Hall in Ming Ceramics in the British Museum, Gift of Lady Bradford, who acquired it in India, no. 11:6, p. 283, where the author states that the toad is a symbol of longevity.
No other vessel with a glazed aperture at the mouth, no handle and an unglazed base with holes appears to have been published. It is probable this piece is a special order made to stand in water for plants.
Marchant. 120 Kensington Church Street London W8 4BH. United Kingdom. Tel: 44 0207-229-5319 - Fax: 44 0207-792-897 - http://www.marchantiques.com