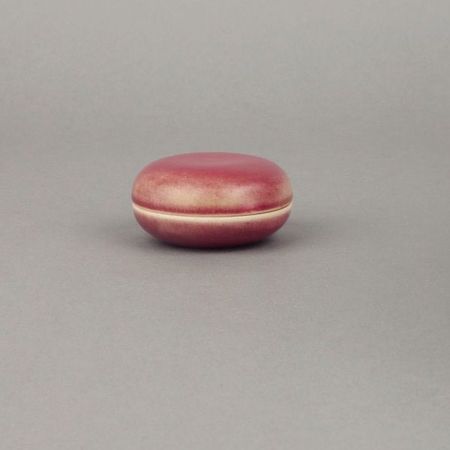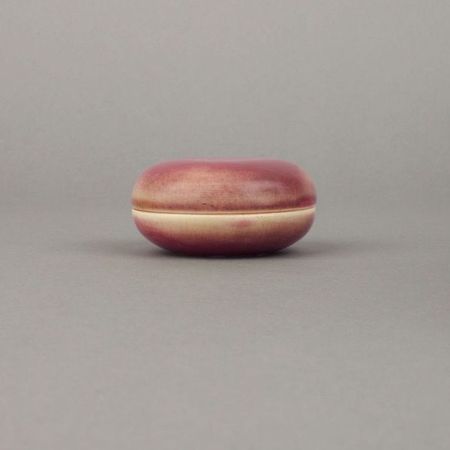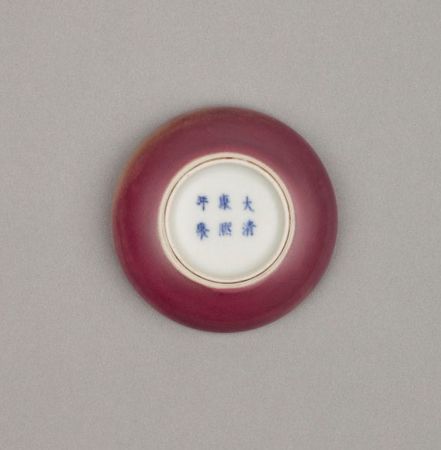 A Chinese imperial porcelain peachbloom circular seal-paste box and cover, yinse he. Kangxi six-character mark and of the period. Photo Marchant
of compressed cushion form with recessed concave base, the exterior covered in a soft mottled pale pink peachbloom glaze fading to a lighter tone at the rims, the interiors glazed white. 2 7⁄8 inches, 7.3 cm diameter. The base with a six-character mark of Kangxi in underglaze blue and of the period, 1662-1722. Price on request.
Sold by Christie's Hong Kong in their auction of Important Chinese Ceramics and Works of Art, 31st October 2000, no. 867, p. 39.
A similar seal-paste box and cover is illustrated by Regina Krahl in Chinese Ceramics from the Meiyintang Collection, Volume Two, no. 819, p. 178; another is illustrated by John Ayers in The Baur Collection, Geneva, Chinese Ceramics Volume Three, no. A312; a further example is illustrated by Chiang Fu-tsung in Special Exhibition of Monochrome Porcelains of the Ch'ing Dynasty, no. 7, p. 47; another, with similar mottling, is illustrated by Wang Qingzheng in Kangxi Porcelain Ware from the Shanghai Museum Collection, no. 207, p. 321.
A similar seal-paste box, from the Benjamin Altman bequest in the Metropolitan Museum of Art, is illustrated by Sue Valenstein in A Handbook of Chinese Ceramics, no. 138, together with seven other peachbloom objects for the writing table.
The seal-paste box or vermillion box, yinse he, is one of the eight peachbloom prescribed wares made for the scholars table and is discussed by Ralph M. Chait in The Eight Prescribed Peachbloom Shapes Bearing K'ang Hsi Marks, Oriental Art, Winter 1957, vol. III, no. 4, pp. 130-137.
Marchant. 120 Kensington Church Street London W8 4BH. United Kingdom. Tel: 44 0207-229-5319 - Fax: 44 0207-792-897 - http://www.marchantiques.com