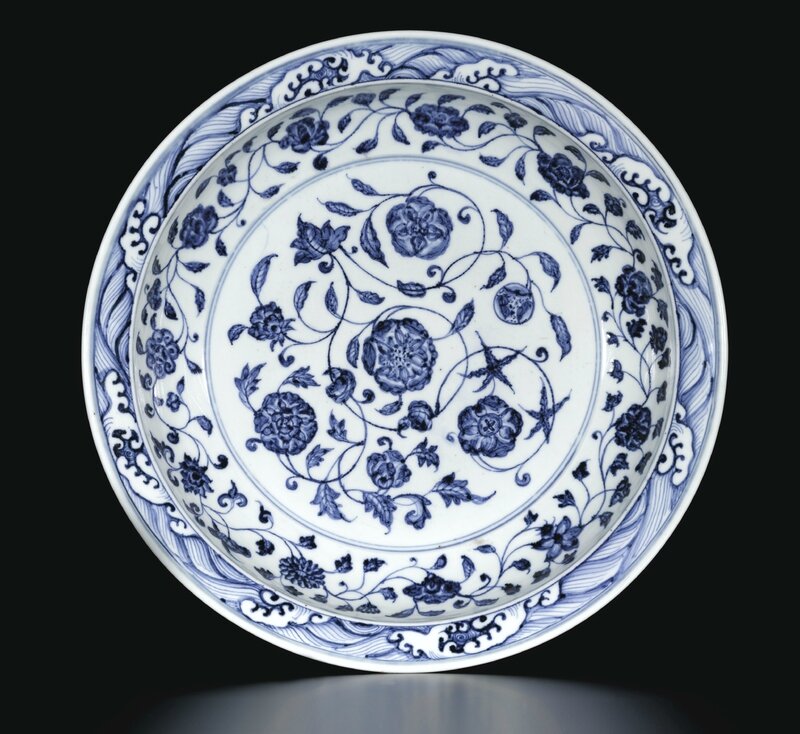 Lot 3152. A fine large blue and white 'floral scroll' dish. Ming dynasty, Yongle period. Estimation 3,000,000-5,000,000 HKD. Lot vendu: 3,620,000 HKD. photo Sotheby's
well potted with round sides raised on a tapered low foot, the interior centred with a large lush medallion of peony, mallow and tea blossoms borne on foliate scrolls, encircled on the cavetto by a continuous scroll with a variety of flowers including peony, camellia, chrysanthemum and lotus, all within a border of cresting waves on the everted rim, the exterior similarly decorated with a composite floral scroll beneath a plain rim, all painted in strong tones of cobalt blue with 'heaping and piling' effect, the base and footring left unglazed; 40.5 cm., 16 in.
PROVENANCE: Christie's London, 10th June 1996, lot 73.
NOTE DE CATALOGUE: Large dishes such as the present example were an innovation of the Yuan dynasty (1279-1368) and their continued production during the Yongle reign (1403-24) may reflect the Yongle emperor's interest in having the imperial kilns create porcelains suitable for export. Even today, more dishes of this type are preserved in the royal collections of the Safavids in Iran and the Ottomans in Turkey than in China or elsewhere. Their availability appears, however, to have been strictly controlled by the court and their sale may have been affected directly through the fleets of Zheng He (1371-1435), the Imperial eunuch who led six immense maritime expeditions westwards as far as East Africa for the Yongle Emperor. Excavations of the Ming imperial kiln site at Zhushan in Jingdezhen have shown that Yongle dishes of this type can be attributed to the early part of the reign as shards of such large blue-and-white vessels have been discovered, for example, in stratum three of the Zhonghua Road excavation site in Jingdezhen immediately above the Hongwu (1368-98) stratum.
A closely related dish is illustrated in John Alexander Pope, Chinese Porcelains from the Ardebil Shrine, Washington, 1956, pl. 34; and another, inscribed with Farsi around the foot rim with the name of the emperor Shah Jehan and a date corresponding to 1632, is published in Peter Hardie, 'China's Ceramic Trade with India, Transactions of the Oriental Ceramic Society, London, 1983-84, vol. 48, p. 19, pl. 3. Dishes of this type can be found in important public and private collections worldwide; see one in the National Palace Museum, included in the Illustrated Catalogue of Ming Dynasty Porcelain, Taipei, 1977, pl. 37; one published in John Ayers, The Baur Collection, Geneva, 1969, vol. II, pl. A140; and another illustrated in Michael Sullivan, Chinese Ceramics, Bronzes and Jades in the Collection of Sir Alan and Lady Barlow, London, 1963, pl. 131a. A dish from the T.Y. Chao collection, included in the exhibition Ming and Ch'ing Porcelain from the Collection of the T.Y. Chao Family Foundation, Hong Kong Museum of Art, Hong Kong, 1978, cat. no. 5, was sold in these rooms, 18th November 1986, lot 35; another was sold in our New York rooms, 20th March 2007, lot 751; and a third example was sold at Christie's Hong Kong, 29th May 2007, lot 1451.
Compare also a similar dish excavated at Dongmentou, Zhushan, in 1994, and included in the exhibition Imperial Hongwu and Yongle Porcelain Excavated at Jingdezhen, Kaohsiung Museum of Fine Arts, Taipei, 1996, cat. no. 44
Sotheby's. Fine Chinese Ceramics & Works of Art. Hong Kong | 04 avr. 2012 www.sothebys.com