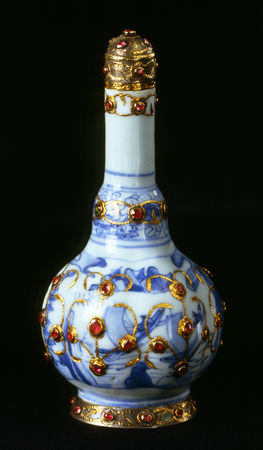 Porcelain bottle, mounted with silver, gold, and gemstones. Bottle: China; c. 1550. Mounts: Turkey; 1550-1600. H: 15.5 cm. Inv. no. 39/1997. The David Collection. © THE DAVID COLLECTION
When mention is made of ceramics from the Ottoman Empire, most people think of the colorful ware from Iznik. The Ottoman sultans, however, used only the far more costly porcelain imported from China. The sultans' collection of porcelain from the 15th-17th century that is kept in the Topkapi Palace is in fact one of the world's largest.
This Chinese porcelain bottle decorated in blue from around 1550 was transformed with silver mounts into a rosewater sprinkler and was further decorated with gold and gemstones by Turkish goldsmiths. Similar Ottoman mounts are also found on a little group of porcelain pieces in Topkapi.