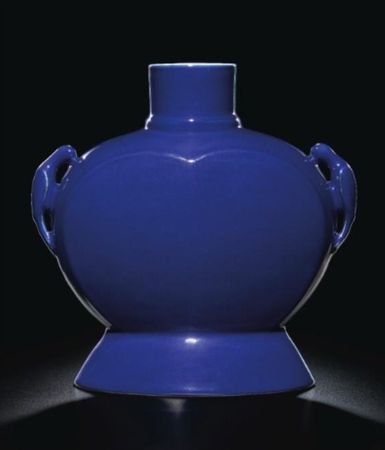 A fine and rare sacrificial-blue glazed moonflask. Seal mark and period of Qianlong. Photo Sotheby's
modelled after archaic bronze form, robustly potted with two broad oval facets tapering towards a tall flared foot of oval section, the two main sides moulded with a raised panel with a slight indentation in the centre, the broad shoulders set on the narrow sides with a pair of parrots forming the handles, their high-relief bodies attached to the shoulders at the beak, feet and tail, all surmounted by a tall columnar neck collared at the base with a ring, applied overall with a deep cobalt-blue glaze, the interior and base left white, the base further inscribed with a six-character reign mark in underglaze blue; height 32.5 cm., 12 3/4 in. ESTIMATION 10,000,000-15,000,000 HKD. Unsold
PROVENANCE: Sotheby's Hong Kong, 20th/21st May 1980, lot 92 (possibly).
NOTE DE CATALOGUE: The present blue-glazed flask, after archaic bronze and earthenware flasks of the Han dynasty, belongs to a small group of wares that represent archaism in porcelain made during the reign of the Yongzheng and Qianlong emperors.
Both emperors' fondness and connoisseurship for archaic pieces kindled their interest in the production of ceramic wares inspired by ancient shapes and designs.
Smaller Yongzheng mark and period flasks of this form served as blue-prints for Qianlong examples. See a Yongzheng flask, covered in celadon glaze, in the Palace Museum, Beijing, illustrated in Kangxi. Yongzheng. Qianlong. Qing Porcelain from the Palace Museum Collection, Hong Kong, 1989, p. 273, pl. 102; and a teadustglazed version, also with a Yongzheng reign mark and of the period, from the Salting bequest and now in the Victoria and Albert Museum, London, published in John Ayers, Far Eastern Ceramics in the Victoria and Albert Museum, London, 1980, pl. 216.
While vessels of this form, made in the striking deep blue glaze remain rare, a similar but slightly smaller example was sold twice in our rooms, first in London, 29th March 1977, lot 285, again in New York, 6th November 1981, lot 315, and more recently at Christie's New York, 24th March 2011, lot 1147, from the Gordon collection. A third blue-glazed flask was sold in our London rooms, 1/2nd April 1974, lot 277. Compare also a smaller flambé-glazed piece, with a cover surmounted by a recumbent mythical beast, included ibid., p. 450, pl. 132, with a Qianlong reign mark.
A Han archaic bronze bianhu with two taotie mask ring handles, the original inspiration for Qing ceramic pieces, is included in The Complete Collection of Treasures of the Palace Museum. Bronze Articles for daily Use, Hong Kong, 2006, pl. 47; and another, from the Estate of the late Alfred Chapin Rogers, was sold in our New York rooms, 17/18th October 1974, lot 271, clearly showing the crescent-shaped grooves at the edges forming a lobed oval panel that was repeated on the porcelain pieces. See also a Han period earthenware flask of this shape, with two small ring handles on the shoulders, published in Kan dai no bijutsu, Tokyo, 1975, pl. 78. Interestingly, while the Qing potter has closely copied the shape of the ancient vessel, his artistic creativity is expressed in the bird-form handles that still evoke the importance of birds during the Han dynasty but are a contemporary addition to the overall design
Sotheby's. Fine Chinese Ceramics & Works of Art. Hong Kong | 04 avr. 2012 www.sothebys.com