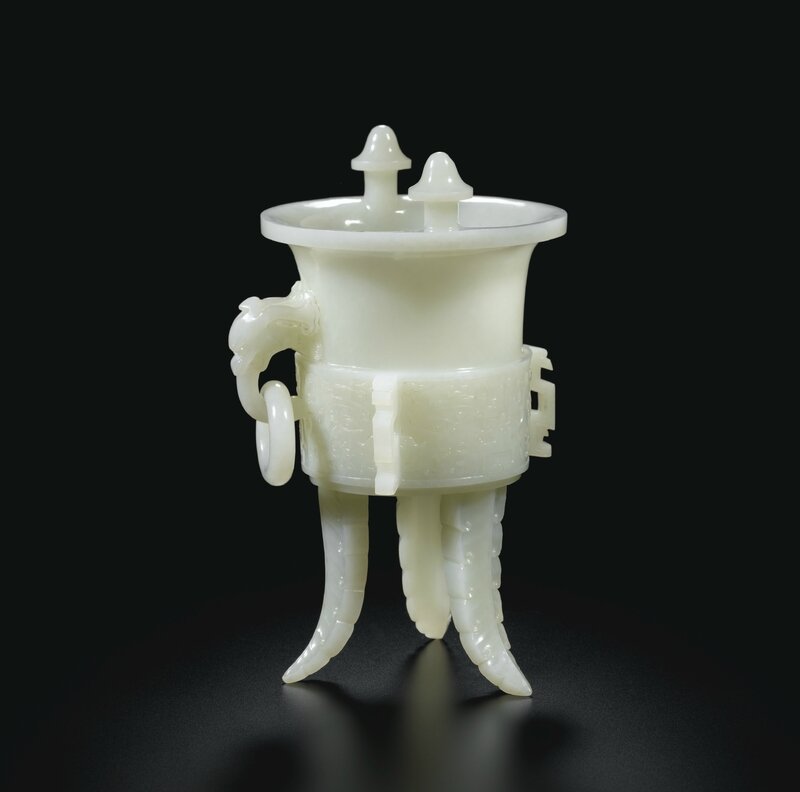 Lot 3275. An impressive white jade wine vessel. Qing dynasty, 18th-19th century. Estimation 2,500,000-3,500,000 HKD. Lot vendu: 8,300,000 HKD. Photo Sotheby's
of archaic jia form, the deep cylindrical body raised on three tall acanthus feet with a pronounced splay, elegantly flaring at the mouth rim below two raised lifting knobs, the exterior finely carved with a broad band of taotie masks divided by 'S'-shaped vertical flanges, one side set with a loop handle suspending a loose ring, issuing from a mythical beast head, detailed with a ferocious face and ruyi-shaped horns switched atop a finely incised mane, the subtly mottled stone with an even white colour and a lustrous polish; 19.7 cm., 7 3/4 in. PROVENANCE: An old Japanese collection.
NOTE DE CATALOGUE: Jade carvings after the archaic bronze ritual vessel jia are rare and this piece is particularly notable for its large size and flawless white jade stone. The clarity of the stone is exceptional, even by Imperial standards. A related jia of smaller dimensions was sold in our New York rooms, 20th February 1979, lot 289; another was sold at Christie's New York, 27th November 1991, lot 171; and a third, but with a Buddhist lion surmounting each finial, was sold in these rooms, 17th May 1977, lot 307. See a later example of larger size and carved from celadon jade, but with an elephant-head handle and vertical flanges encircling the body, sold at Christie's London, 8th December 1986, lot 529.
The Qianlong emperor's own taste and interest have been credited for the third and main wave of archaism, which influenced jade carvers as well as other artists during most of the 18th and 19th centuries and that ancient bronze vessels served as favourite models for either imitations or more frequently for adaptations (see Rene-Yvon Lefebvre d'Argence, Chinese Jades in the Avery Brundage Collection, San Francisco, 1977, p. 118).
Sotheby's. Fine Chinese Ceramics & Works of Art. Hong Kong | 04 avr. 2012 www.sothebys.com