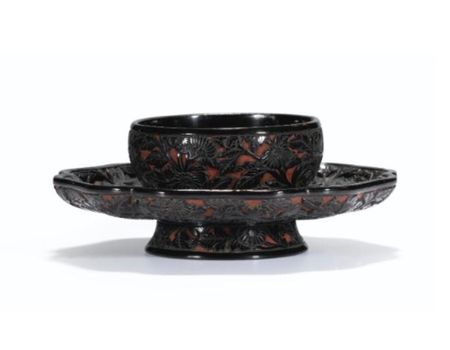 A rare carved 'chrysanthemum' black lacquer cup stand. Song Dynasty. Photo Sotheby's
the hollow bowl with rounded sides collared with a wide six-lobed dish with slightly curved sides, all supported on a tall hollow flared foot, finely carved through layers of black lacquer to the red ground below on the exterior with a striking design of organically arranged chrysanthemum flowers and leaves, the interior of the bowl and the foot laquered in black, together with the bid slip from a 1909 auction; 16 cm., 6 1/4 in. Estimate 1,000,000-1,500,000 HKD. Lot Sold: 3,620,000 HKD
PROVENANCE: Higashi Honganji Temple, Kyoto, 17th June 1909, lot 1355.
Kyoto Shoei Sha (subsidiary of the Kyoto Bijutsu Club) between 1949-56.
NOTE: This cupstand, delicately fashioned with an attractive chrysanthemum scroll motif in black against a red ground, is the work of a Song artisan who has put much ingenuity into the piece and created an attractive decoration on a vessel usually left plain. While the surface is densely filled with flowers, the carver has left ample space between the blooms and leaves to expose a sharply contrasting red background. A cupstand and a circular black-lacquer dish, included in the exhibition Chinese Carved Lacquerworks of the Song Dynasty, Tokyo National Museum, Tokyo, 2004, cat. nos. 29 and 30, serve to help date the present stand. This type of surface treatment possibly had its origins in wood carving while the composition itself is reminiscent of designs found on contemporary textiles. Early carving remained typically two-dimensional compared to that developed from the 14th century onwards, when complex overlay was introduced that made full use of the space and the deep layers of lacquer by cutting it to uneven heights.
A Ming cinnabar-lacquer cupstand of related foliate form, in the Victoria and Albert Museum, London, is included in Sir Harry Garner, Chinese Lacquer, London, 1979, pl. 33, where Garner notes that 'the carved design in red stands out clearly against the ground, originally yellow but now faded to buff, and suggests a close affinity to silk brocade decoration'. Another finely carved stand attributed to the early 15th century was included in the exhibition From Innovation to Conformity. Chinese Lacquer from the 13th to 16th Centuries, Bluett and Sons., London, 1989, cat. no.15.
Sotheby's. Fine Chinese Ceramics & Works of Art. Hong Kong | 04 Apr 2012 www.sothebys.com