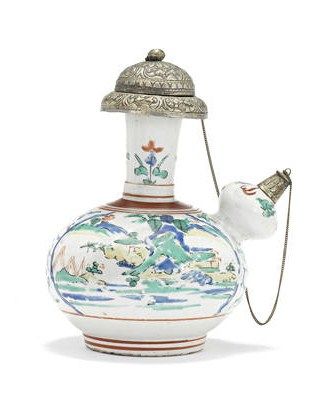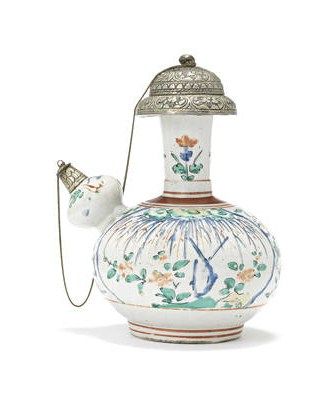 A silvered-metal mounted Kakiemon kendi. Late 17th century. Photo Bonhams
Of typical form, enamelled in colours with two large panels, one showing a lake scene, the other with a willow tree above peonies, the neck with formalised tulips, mounted with later Indonesian silver band, cover and spout cover. 22.5cm (8 7/8in) high. Estimate: £1,000 - 1,500, JPY 130,000 - 200,000, US$ 1,600 - 2,400
柿右衛門 インドネシア製マウント附花鳥風景図水注 17世紀後期
Published: Christiaan J. A. Jörg, Fine and Curious, Japanese Export Porcelain in Dutch Collections, 2003, p.65, no.50.
A similar kendi, without mounts, is illustrated by Barbara Brennan Ford and Oliver R. Impey, Japanese Art from the Gerry Collection in The Metropolitan Museum of Art, 1990, p.77, no.46.
According to the owner at the time of the above publication, the kendi was purchased in Bantan (Java). The silver mounts, following the shape of the original overturned rim, tend to indicate the value that such items had in Indonesian communities, where they were often regarded as holy or venerated objects.
Bonhams. Fine Japanese Art, 17 May 2012. London, New Bond Street www.bonhams.com