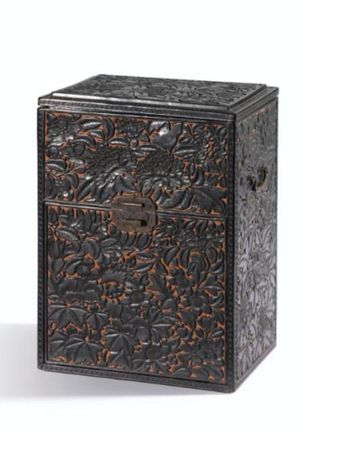 A carved black and cinnabar lacquer stationary box. Yuan dynasty. Photo Sotheby's
of rectangular form with an upper section containing a deep box of rectangular section covered by a thin cover, the lower section with five small drawers hidden behind a removable panel, the exterior densely carved with a medley of flowers and fruit including peony, mallow, prunus, hibiscus, cherry blossom, magnolia, chrysanthemum, lychee, camellia and gardenia, the cover further carved with two ripe pomegranates, one with its skin bursting open, surrounded by lotus, prunus, and peony, all framed by a key-fret border and set against a red ground, the interior drawers carved with the 'Three friends of winter' (pine, bamboo and prunus) in black lacquer set against a red diaper ground, two drawers fitted with baitong metal locks and the other three with bat shaped pulls, the removable panel fitted to the box with a cloud-shaped baitong lock plate, the narrow sides with two metal swing handles; 33.5 by 24 by 18 cm., 13 1/8 by 9 1/2 by 7 1/8 in. Estimation 300,000-400,000 HKD. Lot 3139 vendu: 375,000 HKD
NOTE DE CATALOGUE: The carving on this box represents the fully developed style of the Yuan period when pictorial devices such as foreshortening and overlapping were translated into the language of relief carving. Fine incisions on leaves and petals, to indicate veins, was also used as a technique to bring texture into the composition. On a flat surface, the Yuan lacquer artist was able to create a three-dimensional image. He has cut deep into the lacquer layers that have been built on a yellow-ground some of which he has left exposed. The final product is finished to a shiny rich smoothness, characteristic of the period.
While Yuan period boxes of this type are rare, the carving on this piece may be compared to that seen on a distinct group of carved lacquer dishes, such as the two examples illustrated in James C.Y. Watt and Barbara Brennan Ford, East Asian Lacquer, New York, 1991, from the Metropolitan Museum of Art, New York, pl. 18 and 20.
For a later carved box, see one bearing a Jiajing reign mark and of the period and decorated with the shou character, illustrated in Carved Lacquer in the Palace Museum, Beijing, 1985, pl. 169. A cinnabar-lacquer Jiajing stationery box of related form, finely carved with the 'shou' tree as the main design was included in the exhibition Im Zeichen des Drachen, Museum für Lackkunst, Munster, cat. no. 71, from the Fritz Low-Beer collection. See also a box in the Tokyo National Museum, Tokyo, included in Hai-Wai Yi-Chen, Chinese Art in Overseas Collections, Lacquerware, Taipei, 1987, pl. 114; and another with a Jiajing reign mark and of the period, from the Lee Family collection, included in the exhibition Dragon and Phoenix, The Museum of East Asian Art, Cologne, 1990, cat. no. 54.
A number of Ming and Qing lacquered wooden stationary boxes of this type, from the Qing court collection and still in Beijing, are illustrated in The Complete Collection of Treasures of the Palace Museum. Furniture of the Ming and Qing Dynasties (I), Hong Kong, 2002, pls. 192, 194 and 195
Sotheby's. Fine Chinese Ceramics & Works of Art. Hong Kong | 04 avr. 2012 www.sothebys.com