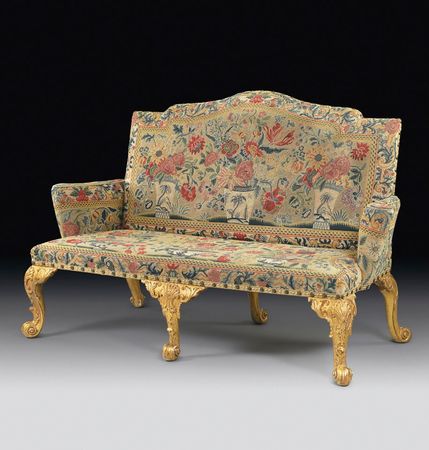 An Early George III Giltwood Settee. The needlework circa 1715, the frames circa 1760-65 and designed to accommodate the earlier needlework. photo: Christie's Images Ltd 2012
En suite with the previous lot, the arched rectangular back and square seat covered in needlework depicting flower-filled blue and white vases on pounced foliate scroll and shell-carved cabriole legs and scrolled toes, one cross-brace inscribed in pencil LADY (?)/COVENTRY/COVENTRY, formerly with casters, re-gilt; 71 in. (180 cm.) long. Lot 122. Estimate $80,000 - $120,000
Provenance: Almost certainly supplied to George William, 6th Earl of Coventry (1722-1809) for Croome Court, Worcestershire or one of his London houses and by descent.
Sir James Horlick, 4th Bt. (d. 1958), Achamore House, Isle of Gigha, Scotland.
The late Sir James Horlick, Bt., removed from Achamore House, Gigha; Christie's, London, 22 November 1973, lot 41 [part of a large suite].
Acquired from Stair & Company, New York.
Literature: L.G.G. Ramsey, 'Chinoiserie in the Western Isles: The Collection of Sir James and Lady Horlick', The Connoisseur, June 1958, p. 4 (shown in situ at Achamore House).
G. Beard and J. Goodison, English Furniture 1500-1840, Oxford, 1987, p. 60, fig. 4 (a side chair from the suite) and p. 64, fig. 2 (the settee).
Notes: THE COVENTRY SUITE
THE PROVENANCE

The suite belonged to Sir James Horlick, 4th Baronet (d. 1958), who assembled a notable collection of eighteenth century English furniture with an eye to buying only the best. The needlework, depicting blue and white flower-filled vases, played into Sir James's particular passion for Chinese design. This focus of his collecting was evident in his large assemblage of exceptional mirror paintings, as well as mid-18th century japanned and lacquer furniture, highlighted by three important commodes from Harewood House. The collection furnished Achamore House, his home on the tiny Isle of Gigha in the Scottish Western Isles three miles off the mainland. The suite was featured in a 1958 Connoisseur article devoted to the collection entitled 'Chinoiserie in the Western Isles, the Collection of Sir James and Lady Horlick'. At that time, it was said to have been 'originally made for Gilbert, 4th Earl of Coventry (d. 1719)'.

The Coventry provenance is an intriguing one and supported by a pencil inscription 'Lady Coventry' on a cross brace of the matching settee. The needlework covers appear to date from the time of the 4th Earl (who died in 1719), with their elongated backs and chinoiserie design which was au courant in the early 18th century. Similar needlework covers worked with blossoming flowers in blue-and-white vases feature on a documented set of chairs supplied by the London upholsterer Thomas Phill for Canons Ashby, Northamptonshire in 1714/1715 ('for making ye needleworke covers and fixing ym on ye chairs & for sewing silke used about ye same /P1.13.0') (A. Bowett, Early Georgian Furniture 1715-1740, Suffolk, 2009, p. 152, pl. 4:12). While little is known about the 4th Earl's collecting, he was apparently extravagant enough to put himself into financial difficulty.

The legs, however, are designed in the French picturesque manner of the 1750s and 1760s. It is conceivable that the 6th Earl, who inherited in 1751, may have re-used the earlier needlework covers on updated seat frames in a more contemporary fashion. Lord of the Bedchamber to Kings George II and George III, the 6th Earl married the celebrated beauty, Maria Gunning of Ireland, and embarked on a massive rebuild and refurbishment of Croome Court in Worcestershire, as well as his London homes. Lord Coventry first engaged Lancelot 'Capability' Brown (d. 1763) (best known as a landscape designer) to build a new Croome Court on the site of the Jacobean mansion. In 1760, Robert Adam famously took on the project in the early days of his career, creating iconic interiors such as the tapestry room now at the Metropolitan Museum of Art, New York. Over 300 bills survive that date as early as 1757 and indicate that London's top artisans were all commissioned for the project: John Hobcroft (master carpenter), Joseph Rose (plasterer), Sefferin Alken (carver) and cabinet-makers Vile and Cobb, Mayhew and Ince, William Linnell, Chippendale and Rannie, France and Bradburn, and Pierre Langlois. The French-inspired suite would have suited the 6th Earl who visited Paris in 1763, actively buying French furniture, Gobelins tapestries and porcelain (see G. Beard, 'Decorators and Furniture makers at Croome Court', Furniture History, 1993, pp. 88-113 and J. Parker, 'Croome Court: The Architecture and Furniture', The Metropolitan Museum of Art Bulletin, November 1959, pp. 79-95.)
Sir James Horlick's assertion of Coventry provenance is a credible one but as yet unsubstantiated. The suite may have been supplied for one of the 6th Earl's London houses as it cannot be identified in the Croome Court invoices or the 1930 inventory for the house (Croome Estate Trust). It also does not appear in Sotheby's 25 June 1948 sale of Croome Court property. However, certain pieces were sold privately at the time such as the pair of Mayhew pier tables which were acquired directly by the Philadelphia Museum of Art. And other pieces left the house at an earlier date. The 9th Earl of Coventry (d. 1930), who succeeded to the tile in 1843, notably sold the famous tapestries and tapestry-covered furniture in 1880 when he re-papered the room (J. Parker, op. cit., p. 900.)

In addition to Croome, the 6th Earl was actively refurbishing his London homes, principally Coventry House on 29 Piccadilly (now 106 Piccadilly, the St James's Club), and possibly Grosvenor Square and Margaret Street. Simultaneous activity at the London homes can be gleaned by an interesting entry on a 1763 Croome invoice from the carver Sefferin Alken 'for appraising furniture at your House in Grosvenor Square & Wrighting 2 Inventorys & Attendance Severall times', while Adam's direction at Coventry House is well known.

The park at Croome Court was given to the National Trust while the house remains private and is owned by the Croome Estate Trust.

POSSIBLE MAKERS

The 'French' design of the suite represents the fashion of the day promoted by many of London's top cabinet-makers. Certainly one likely possibility are the Royal cabinet-makers William Vile (d.1767) and John Cobb (d.1778), who worked extensively for the 6th Earl and figure prominently in the records at Croome from 1757 through the 1760s. '8 French pattern armd Chairs Carvd and gilt in burnish'd gold with hollow backs' and matching sofas were supplied by John Cobb in 1768, while a pair of painted and parcel-gilt console tables, now on display at Temple Newsam House, Leeds, were delivered in 1761 and feature similarly scrolled toes issuing acanthus (C. Gilbert, Furniture at Temple Newsam House and Lotherton Hall, London, 1978, vol. II, p. 361, no. 452). Similar chairs with boldly scrolled bifurcated toes were supplied to John, 2nd Earl Poulett (d.1764) for Hinton House, Somerset (a pair of armchairs sold Christie's, New York, 16 October 1998, lot 333). Current research has associated the Hinton House suite with Vile and Cobb.

France and Bradburn supplied 'French armd chairs' for Croome in 1764, while other top makers of similarly styled seat furniture include Paul Saunders and William Bradshaw.
Christie's. The Van Cliburn Collection. 17 May 2012. New York, Rockefeller Plaza