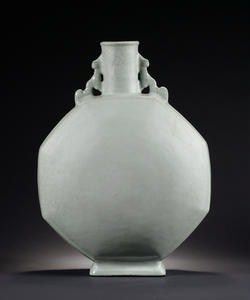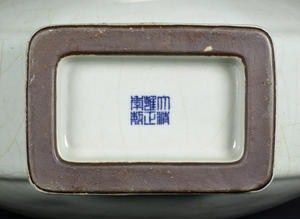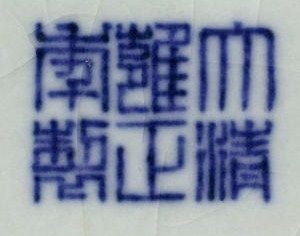 A very fine and rare Guanyao-type moonflask Yongzheng seal mark and of the period. Photo Bonhams
The heavily-potted vase moulded with eight facets around the sides and two convex main faces, the cylindrical neck set with two zoomorphic dragon handles rising to the rounded rim, all on a slightly-domed rectangular base, the glaze of pale lavender-grey tone with an extensive wide light golden-brown craquelure simulating somewhat the Song Dynasty prototype for this kind of Qing Dynasty revival vessel. 49cm (19½in) high - Lot 303 Estimate: £300,000 - 500,000 / CNY 3.0 million - 5.0 million / HK$ 3.7 million - 6.2 million
清雍正 仿官釉雙獸耳抱月瓶 青花「大清雍正年製」篆書款
Provenance: Michael and Betty Pinney, Bettiscombe Manor, Dorset.
According to the family, acquired in the 1930s in Oxford, and thence by descent.

The vase was housed in the family's stately home, Bettiscombe Manor, Dorset, from the 1930s to 1984, when the manor was sold. Bettiscombe Manor belonged to the Pinney family, who first came to Bettiscombe as bailffs for the lord of the manor in the 16th century. The family's fortune was founded on West Indian sugar plantations remaining in the family's ownership until the emancipation of slaves.

The present vase combines innovation and archaism, greatly inspired in its glaze from the subtle Imperial Southern Song Dynasty Guan glaze, yet reinterpreting it in this impressive octagonal moonflask form drawing on the Ming Dynasty, thus reflecting the trend of innovation within tradition, which took place during the Yongzheng reign and continued in the Qianlong reign. As noted by Regina Krahl in E.R.Rawski and J.Rawson, eds., China: The Three Emperors 1662-1795, London, 2006, p.245: 'The signature works of the Yongzheng period, however, are those whose deceptive simplicity made the greatest demands on the potters' aesthetic conception and technical ability. The Yongzheng Emperor's fascination with antiquity, his collecting of antiques and the resulting passion for archaism on the one hand, and his personal taste, demand for quality, and engagement of contemporary craftsmen on the other, gave Qing art its identity and shaped our idea of Chinese art in general.' Undoubtedly the present vase encapsulates these aspects with its subtle archaic-inspired glaze, yet technically demanding form and monumental size produced in the Imperial kilns in Jingdezhen.

The fascination with Song Dynasty glazes and Han, Song and Ming Dynasty forms is illustrated by the Ru, Ge and Jun type glazes found beautifully adorning vases from the Yongzheng period in the National Palace Museum, Taipei: see Harmony and Integrity: The Yongzheng Emperor and His Times, Taipei, 2009, pls.II-27, 30, 48, 49, 51-57. Compare also a related hexagonal Guan-type glazed vase, hu, Yongzheng mark and of the period, from the Qing Court Collection (fig.1), illustrated in The Complete Collection of the Treasures of the Palace Museum: Monochrome Porcelain, Hong Kong, 1999, pl.204. For a related blue and white octagonal moonflask, Yongzheng mark and of the period, from the National Palace Museum, Taipei, see Catalogue of the Special Exhibition of K'ang-hsi, Yung-cheng and Ch'ien-lung Porcelain Ware from the Ch'ing Dynasty in the National Palace Museum, Taipei, 1986, pl.30.

Compare a related Ge-type lobed moonflask, Yongzheng mark and of the period, of similar size, sold at Sotheby's Hong Kong on 8 April 2011, lot 3017.
Bonhams. 17 May 2012 10 a.m. London, New Bond Street. Fine Chinese Art