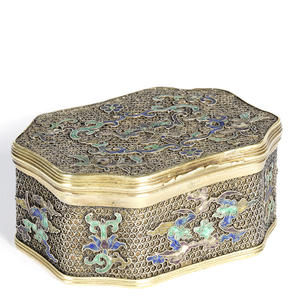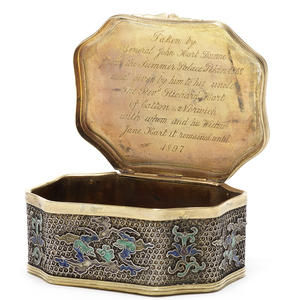 A very rare documentary enamelled silver-gilt filigree oblong octagonal snuff box and cover, 18th-early 19th century. Photo Bonhams
The top set with a delicately-woven sheet of filigree whorl pattern enriched with a central musical stone hanging from a bat and clusters of peaches at the four corners, the sides with similar smaller bat and flower sprays, the interior under a shallow gilding. 7.2cm (2 7/8in) wide - Lot 124. Estimate: £45,000 - 60,000 / CNY 450,000 - 600,000 / HK$ 550,000 - 740,000
十八/十九世紀早期 鎏銀纍絲填琺瑯蝠壽紋委角銘文鼻煙盒
The interior of the cover is engraved with a fascinating historical note which reads as follows: Taken by General John Hart Dunne from the Summer Palace Pekin 1860 and given by him to his uncle the Revd. Richard Hart of Catton Norwich with whom (and his widow Jane Hart) it remained until 1897.
Boxes of this type, with a noticeably European form, have been considered by some to be of European origin, however the bat and peaches on the present lot make clear the Chinese origins of the design. The provenance from the Summer Palace is particularly interesting in this respect, since it suggests that such boxes were not made solely for export but were also appreciated in Imperial China. Compare two related silver filigree boxes from the Main Hermitage Collection in St Petersburg included in the exhibitionTreasures of Catherine the Great, held at Somerset House, London, 2001-2001, Catalogue, no.364.
By interesting coincidence, another piece taken from the Summer Palace by General Dunne in 1860 is also offered in this sale: see lot 382, a gold-ground nine-dragon robe, also with an accompanying photograph of the General.
Bonhams. 17 May 2012 10 a.m. London, New Bond Street. Fine Chinese Art