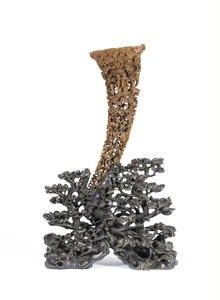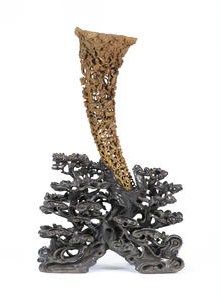 A rare large rhinoceros horn libation cup, 19th century. Photo Bonhams
The full-tip reticulated horn superbly carved in high relief with the the HeHe Erxian holding a spray of nandina and an ingot, above two deer, the reverse carved with three rams, all amidst gnarled branches of nandina, wutong, magnolia, pomegranate, pine and peach, below cloud scrolls around the rim, large elaborate wood stand. 59cm (23¼in) long (2).. Lot 226Y. Estimate: £50,000 - 70,000 / CNY 500,000 - 700,000 / HK$ 620,000 - 860,000
十九世紀 犀角雕和合二仙杯
The present cup is particularly auspicious for its carving of the He He Erxian and the three rams, San Yang. The He He Erxian figure as harbingers of fortune, representing harmony and union. The three rams are associated with ushering renewal and change or happiness and prosperity.

It is very possible that the inspiration for the elaborate carving of full-tip rhinoceros horn cups produced in Canton in the 19th century, was derived from large carved rhinoceros horns such as two from the Qing Court Collection, illustrated in The Complete Collection of Treasures of the Palace Museum: Bamboo, Wood, Ivory and Rhinoceros Horn Carvings, Hong Kong, 2002, pls. 109 and 131. For a similar example to the present cup, from the Durham University Oriental Museum, similarly carved with cloud scrolls around the rim, see J.Chapman, The Art of the Rhinoceros Horn Carving in China, London, 1999, pl.38.

Compare related large full-tip rhinoceros horn cups, 19th century, carved in high relief with figures, sold at Christie's Hong Kong, on 1 June 2011, lot 3765; and at Christie's New York, on 15-16 September 2011, lot 1231.
Bonhams. 17 May 2012 10 a.m. London, New Bond Street. Fine Chinese Art