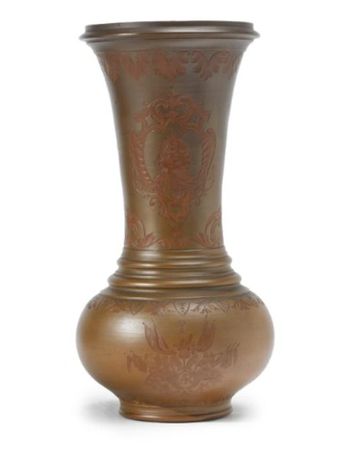 A rare Böttger stoneware vase, circa 1710-15.. Photo: Sotheby's.
later engraved on either side with a profile portrait of Frederick Augustus I, Elector of Saxony and King of Poland, or the arms of Saxony-Poland and Electoral arms of Saxony, each within an elaborate scrollwork cartouche, the lower body engraved on either side with the AR monogram or a military trophy.
height 10 1/4 in.; 26 cm. Lot 1. Estimation 10,000-15,000 USD
NOTE DE CATALOGUE: A Böttger vase of similar shape with a flared foot is illustrated by Ernst Zimmerman, Die Erfundung un Frühzeit des Meissner Porzellans, p. 129, fig. 40.
Sotheby's. Important English and European Furniture, Silver, Porcelain and Carpets. New York | 23 mai 2012 www.sothebys.com