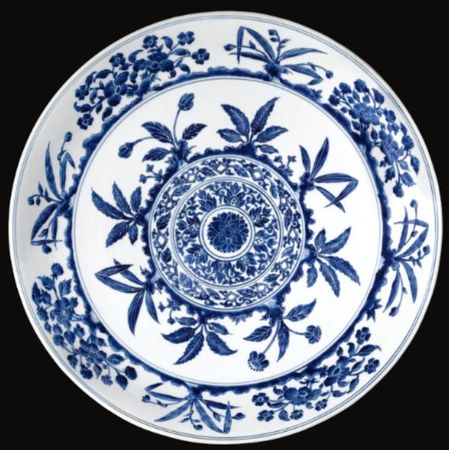 A large Blue And White Charger for the Islamic Market. 17th century. Photo Sotheby's
the curved sides rising from a tapering foot to a flared rim, painted in rich cobalt-blue tones and incised to the interior with a floral medallion encircled by stylised floral bands, all encircled by two wide bands of leafy floral sprays issuing from a rocky ground, similarly decorated to the exterior with eight floral roundels divided by stylised radiating lingzhi sprays; 50.5cm., 19 7/8 in. Estimation 15,000-20,000 GBP. Lot 104 vendu: 15,000 GBP
NOTE DE CATALOGUE: The present charger is distinct for its impressive large size and striking decoration with elements that are inherentlyChinese but also include a hint of foreign influence. While the freely painted clusters of plantain palms and leaves rising from rockworks are recognisable from earlier Ming blue-and-white wares, the stylised foliage design bands encompassing a central rosette are reminiscent of that seen on Islamic metalwork and textiles. The spacious layout of the design and the bold use of traditional Chinese decorative components suggest an early attribution as well as the possibility of the vessel being made to satisfy both foreign and domestic taste.
This charger displays many of the characteristics associated with 17th century blue-and-white wares found in the collection of the Topkapi Saray, Istanbul. Similar flowering plants growing from small hillocks painted in blue with incised details appear on a much smaller dish illustrated in Regina Krahl, Chinese Ceramics in the Topkapi Saray Museum, Istanbul, London, 1986, pl. 2082. Compare also the roundels containing flowering plants with that found on the exterior of a bowl included ibid., pl. 2077; and the flower scroll design on a hookah base painted in blue with incised details, ibid., pl. 2083. Another smaller dish, ibid., pl. 2063, also exhibits comparable design elements, such as the lozenge-shaped blooms and the foliage bands surrounding a central rosette. The arrangement of the rosette within two stylised floral design bands is influenced by decorative motifs found on Islamic metalwork; see an incense burner tray stand from the Mamluk period (1250-1517) illustrated in James W. Allan, Islamic Metalwork. The Nuhad Es-Said Collection, London, 1999, pl. 15.
The decorative technique employed on this dish combines painted elements with careful incising, the layer of still-wet paint incised with a fine point instrument to reveal the white slip, thus demonstrating the Chinese artist's remarkable ability and artistic inventiveness.
Sotheby's. Fine Chinese Ceramics & Works of Art. Londres | 16 mai 2012. www.sothebys.com