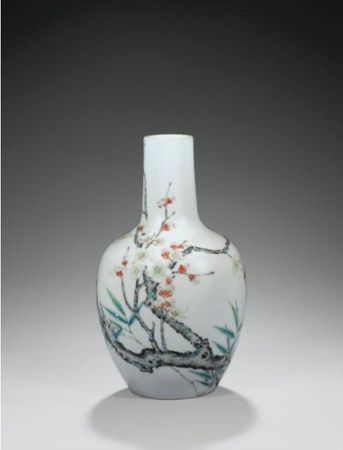 Rare vase en porcelaine de la famille rose. Chine, Dynastie Qing, marque et époque Yongzheng (1723-1735). Photo Sotheby's
A very rare and finely painted Famille Rose Vase, China, Qing Dynasty, Yongzheng sixcharacter mark and of the period
la panse ovoïde sous un long col droit, le pourtour très finement peint d'une branche noueuse de prunier en fleurs dont les branchages s'épanouissent sur les côtés et à l'intérieur du col, s'entremêlant avec des bambous aux feuilles peintes dans un délicat camaïeu de bleu et vert, marque à six caractères en bleu sous couverte à la base ; le col réduit; 19,5 cm, 7 3/4 in. Lot 40. Estimation 50,000-80,000 EUR
PROVENANCE: Collection of Charles E. Russell (1866-1960), London.
Sotheby's London, 7th December 1944, lot 107.
Bluett & Son, London.
Collection of Geoffrey Hutchinson (according to label).
Collection of E.C. Blake, London.
Sotheby's'London, 8th July 1958, lot 80.
Sotheby's London, 8th July 1975, lot 153.
EXHIBITED: Enamelled Polychrome Porcelain of the Manchu Dynasty, Oriental Ceramic Society, London, 1951, no. 188.
CATALOGUE NOTE: During the Yongzheng period, a painterly style of porcelain decoration flourished at the Qing court under the influence of Jesuit artists such as Giuseppe Castiglione. Under their influence, Chinese artists like Yun Shouping (1633-1690) propagated flower paintings among a wider audience. The knotted branches of a flowering prunus tree bearing delicately painted blossoms next to a bamboo and rooted beside a mossy ornamental rock are rendered with great skill while appearing completely natural. At the same time, the design is being applied across the body and neck in a way that effectively complements the shape of the vase.
Vases and dishes with similarly finely painted flower designs and bearing Yongzheng marks, are known in a number of shapes and designs. Compare, for instance, a large tianqiuping painted with sprays of peony mingled with sprays of prunus, from the collection of R.H.R. Palmer, illustrated in Soame Jenyns, Later Chinese Porcelain, London, 1951, pl.XC, fig. 2, and one sold at Sotheby's Hong Kong, 30th October 2000, lot 205. For a bottle vase bearing a design of intertwined flowering peony branches, compare an example sold at Sotheby's Hong Kong, 4th May, 1994, lot 229. The present vase is also closely related in shape and design to a pair of famille rose vases bearing Qianlong marks, enamelled with a tree with knotted branches with yellow blossoms similarly rooted beside a mossy rock, sold at Sotheby's London, 18th June 1985, lot 200
Sotheby's. Arts d'Asie. Paris | 13 Jun 2012, 10:30 AM www.sothebys.com