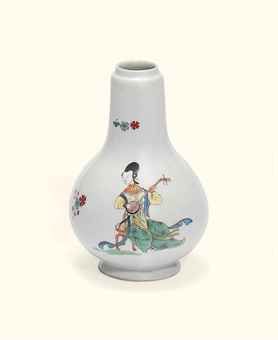 A Meissen chinoiserie flask.. Circa 1730, puce enamel creossed swords mark. Photo: Christie's Images Ltd 2012
Painted and gilt in the famille verte palette with vignettes of two seated ladies, each musicain playing a stringed instrument, among scattered sprigs of flowers in the Kakiemon style (minor scratches); 4 7/8 in. (12.4 cm.) high. Lot 630. Estimate £8,000 - £12,000..
Notes: For a plate painted with the same pattern in the collection of the Museum für Kunsthandwerk, Frankfurt am Main, see Rainer Rückert, Meissener Porzellan 1710-1810, Munich, 1966, p. 96, no. 330, pl. 85, illustrated with another plate with a related pattern. A similar plate to this second example is in the Wark Collection, see Ulrich Pietsch, Early Meissen Porcelain The Wark Collection, London, 2011, p. 260-1, no. 255, the author discusses the unusual combination of designs influenced by Chinese and Japanese porcelain and suggests that the decorators at Meissen would have taken inspiration from pieces in the Royal Collection housed at the Japanese Palace. The form of this vessel is also inspired by a Japanese prototype. The stepped rim of this vessel would have been intended to take a flattened cover in either porcelain or metal. See the goldchinesen examples in the Arnhold collection, see Maureen Cassidy-Geiger, The Arnhold Collection of Meissen Porcelain 1710-50, London, 2008, cat. no. 280.
Christie's. Centuries of : Silver, European Ceramics, Portrait Miniatures and Gold Boxes. 30 - 31 May 2012. London, King Street