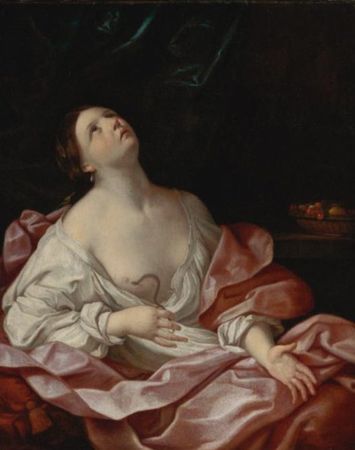 Attributed to Guido Reni and studio (Calvenzano di vergato 1575 - 1642 Bologna), Cleopatra. Photo Sotheby's
oil on canvas; 44 1/8 by 37 in.; 112 by 94 cm. Lot 26. Estimation 70,000-90,000 USD.
NOTE DE CATALOGUE: One of Reni's most favored themes was that of Cleopatra. The image of the Egyptian queen committing suicide by allowing a poisonous asp to bite her was extremely popular throughout Europe during the seventeenth century, and Reni invented no less than six interpretations of the scene. This particular composition relates most closely to the picture from circa 1631-2 in the Royal Collection, Hampton Court. Pepper lists seven repetitions, with the Hampton Court picture serving as the widely accepted prime version (see D.S. Pepper, Guido Reni, New York 1984, cat. no. 136). An unpublished work, the quality of the present painting suggests that it may be a product of the highly capable Reni studio, with parts, such as the face, possibly executed by Reni himself. Furthermore, Emilio Negro has suggested (written communication 6 April 2012) that the picture may be a collaboration between Reni and Giovanni Andrea Sirani.
Sotheby's. Old Master Paintings. New York | 06 Jun 2012, 10:00 AM www.sothebys.com