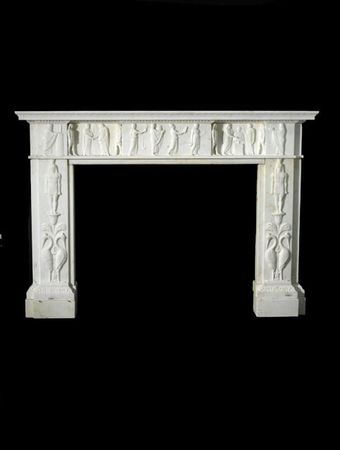 The chimneypiece is estimated at £20,000 – 30,000. Photo: Bonhams
LONDON.-
An imposing Egypto-Roman revival white marble chimneypiece, reputedly from the home where Lord Nelson planned to spend his retirement, is set to be sold at
Bonhams
Fine English Furniture and Works of Art sale on 13th June. The chimneypiece is estimated at £20,000 – 30,000.
Lord Nelson bought Merton Place in 1801, fulfilling his dreams of buying a residence that he could share with Sir William and Lady Hamilton, his mistress, when on leave. He had also recently fathered Emma Hamilton's child, Horatia, spurring him on to make a comfortable home for the family.
Nelson's feverish letters to Lady Hamilton attest to his ambitions to extend and improve the property and it is conceivable that such a chimneypiece may have formed part of the decoration in this country mansion.
The chimneypiece is a fine example of early 19th century marble decoration, depicting an Isiac procession flanked by a continuous series of relief-carved Roman figures and pairs of Egyptian slave figures either side.
Sadly, Nelson was never able to oversee his plans for renovation of Merton Place or to retire comfortably by the fireside. He only spent a short time with his beloved Lady Hamilton, at his new home, before he was called away to the Battle of Trafalgar in 1805, where he met his untimely death.
After Nelson's death, Lady Hamilton ran up enormous debts in her attempts to preserve Merton Place as a tribute to her love for Nelson and she was forced to sell the property and its contents.
Fergus Lyons, Director of the Furniture department commented "
We are delighted to be offering this highly sculptural chimneypiece which epitomises the zenith of Regency style and is one of only a few recorded examples of its kind
".