Bindo Altoviti, Raphael. Oil on panel, 59,7 x 43,8 cm, ca. 1516 - 1518, Washington, National Gallery of Art, Samuel H. Kress Collection 1943.4.33
MADRID.- Late Raphael is the first major survey exhibition on Raphael (Raffaello Sanzio, 1483-1520) to combine paintings and drawings in order to focus on the last seven years of the life of the artist, who died in Rome on his 37th birthday. This was the period in his career when Raphael produced the work that would have the greatest subsequent impact on European art. Nonetheless, his paintings have not been fully understood due to chronological issues, to their disconcerting diversity and because the artist did not work by himself. This important exhibition has been made possible through the sponsorship of Fundación AXA, which was the first company to become a Benefactor Member of the Museum and which this week renewed its commitment to the Prado for a further four years.

The last three exhibitions to be devoted to Raphael, held in London, Rome and Urbino, focused on his early years and the only attempt to analyse the late period was the exhibition held in Mantua and Vienna in 1999, which primarily focused on drawings.

The present exhibition aims to establish a clear definition of the boundaries between works executed by Raphael and those produced with the collaboration of his principal assistants, Giulio Romano (ca.1499-1546) and Gianfrancesco Penni (ca.1496-1528). It starts in 1513 by which date Raphael had been working in Rome for five years, decorating the monumental Vatican Stanze alongside other leading Italian artists such as Michelangelo (his principal rival, at that point working on the Sistine Chapel) and Sebastiano del Piombo, firstly during the pontificate of Julius II then for Leo X.

With the change of pope Raphael took on a greater number of commissions both for Leo X and for other patrons and at this point began to employ a considerable number of assistants. His studio was very possibly the largest to date under the direction of a single great painter and eventually counted on 50 pupils and assistants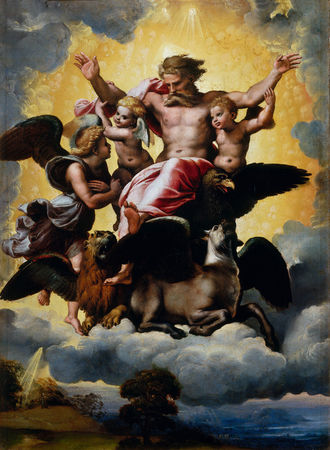 The Vision of Ezekiel, Giulio Romano on the basis of a design by Raphael. Oil on panel, 40,7 x 29,5 cm, 1516 - 1517, Florence, Soprintendenza Speciale per il Polo Museale Fiorentino, Galleria Palatina di Palazzo Pitti
The exhibition will present the visitor with the highly efficient and effective results of this system, led by the remarkably versatile Raphael. In addition to producing easel paintings (the subject of this exhibition) he also executed frescoes such as those for the Vatican Stanze and for the Villa Farnesina, cartoons for tapestries (for the Sistine Chapel), and worked as an architect (continuing the construction of St Peter's after Bramante's death).

As a result of this collaboration between the Museo del Prado and the Musée du Louvre, which together house the largest number of works from Raphael's final period, the exhibition includes an unprecedented selection of forty-four paintings, twenty eight drawings, an archaeological item and a tapestry, loaned from around forty different institutions. Visitors will thus be able to see a chronologically structured survey organised into six sections that cover Raphael's pictorial and aesthetic evolution and also present a comparison of his final style with a group of works by his two assistants Romano and Penni, the latter produced both during Raphael's lifetime and immediately after his death. This unprecedented opportunity for comparison will allow for an identification of the degree of participation of Raphael and his assistants in these works while also helping to establish the latter's intellectual and aesthetic contribution to Raphael's oeuvre.

In this regard the almost thirty drawings that are displayed alongside the paintings play a key role in helping to identify Raphael's hand, not only due to their absolute mastery but also because they reveal the original design and conception of his paintings.

Among the most outstanding works that have travelled to Spain for the first time are the serene portrait of one of the artist's friends, Baldassare Castiglione (1519), loaned from the Louvre, and the major altar painting of Saint Cecilia (1515-1516) loaned from the Pinacoteca Nazionale de Bologna in which the viewer can appreciate the remarkable beauty of the figures and their perfect, harmonious composition, a level of achievement that Raphael attained during his time in Rome.

Also remarkable are the paintings from Raphael's late period in the Prado's own collection, including the panel transferred to canvas known as Lo Spasimo di Sicilia (1515-1516), which is on display for the first time since its restoration.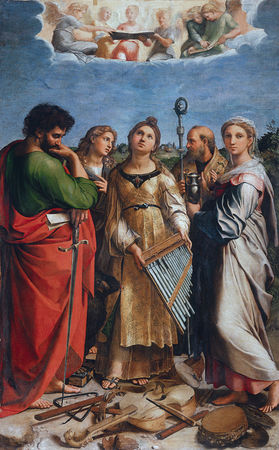 Santa Cecilia, Raphael. Oil on panel transferred to canvas, 236 x 149 cm, 236 x 149 cm, ca. 1515 - 1516, Bolonia, Pinacoteca Nazionale