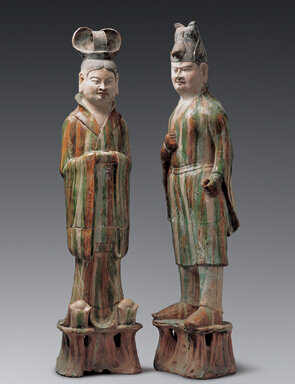 Civilian Official and Military Officer, Tang Dynasty (618–907 CE). Excavated 1965 at Yejiabao, Gansu Province. Three-color lead-glazed (sancai) earthenware, height 133.5 cm and 135.5 cm. Gansu Provincial Museum, Lanzhou.
WILLIAMSTOWN, MASS.- The Sterling and Francine Clark Art Institute presents rare Chinese burial objects in an exclusive exhibition that considers both the discovery and the impact of modern Chinese archaeology, Unearthed: Recent Archaeological Discoveries from Northern China, open June 16 – October 21, 2012. The exhibition features objects recently excavated from sites in the Shanxi and Gansu provinces and never before seen outside of China, including a full-size stone sarcophagus discovered intact in 2004. Unearthed leads the Institute's interrelated summer exhibition program of four exhibitions, including three presentations in Williamstown and one in New York.
The exhibitions are part of the Institute's current cultural exchange initiative with China, and were inspired by a scientific expedition to Northern China undertaken by the Institute's founder in 1908 to document the region's terrain, ecology, and meteorological conditions. In 2008, the Clark initiated a series of cultural exchange programs through China's Ministry of Culture to connect Sterling Clark's pioneering work in China with contemporary audiences. It is through these efforts that special permission has been granted to allow these rare archaeological objects to travel to America for exhibition at the Clark. The 2012 exhibitions also commemorate the 100th anniversary of the publication of Through Shên-kan: The Account of the Clark Expedition in North China, 1908–9, written by Sterling Clark and naturalist Arthur deCarle Sowerby to document the events and findings recorded by their expeditionary team during the 17-month trek across the remote regions of Northern China.
"At a time when recent archaeology is changing China's evolving sense of its own history, it is important to explore how these kinds of discoveries are affecting contemporary China's reconsideration of its past," says Michael Conforti, Director of the Clark. "This exhibition not only celebrates the magnificent objects discovered through archaeology, but also examines how recent archaeological finds are influencing modern China's sense of its cultural identity."
In addition to Unearthed, the Clark is presenting exhibitions that explore the little-known story of Sterling Clark's expedition. In New York, the Clark has commissioned artist Mark Dion to create an installation, Phantoms of the Clark Expedition, on view at the Explorers Club from May 9–August 3, 2012. In Williamstown, artifacts, objects, and historic documents and photographs from the expedition are being presented at the Clark's Stone Hill Center in the exhibition Through Shên-kan: Sterling Clark in China (June 16–September 16, 2012). A small photographic installation Then & Now: Photographs of Northern China (June 16–September 16, 2012), which juxtaposes historic images taken during the Clark expedition with modern views of the same sites by Chinese photographer Li Ju, is being presented at Stone Hill Center.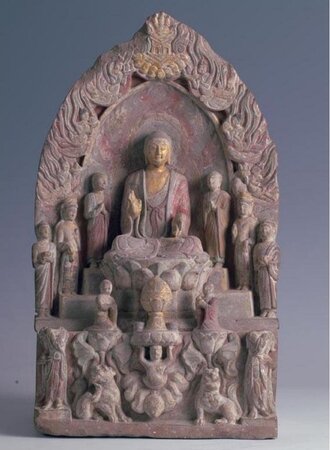 Buddhist Stele with Sakyamuni, Monks, Bodhisattvas, Devotees, Patrons, and Guardians. Northern Qi dynasty (550–577 CE). Sandstone with pigment and gilding, 46 x 25.5 x 17.7 cm. Unearthed 1954, Huata Monastery, Taiyuan, Shanxi Province. Shanxi Museum, Taiyuan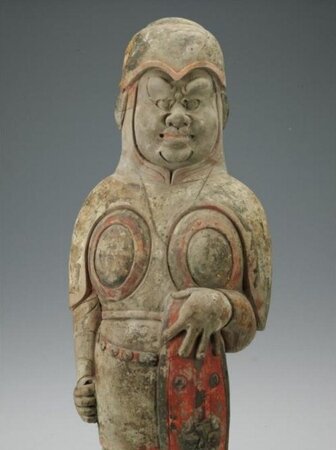 Warrior Guardian (detail). Northern Qi dynasty (550–577 CE), tomb dated 570 CE. Painted earthenware, height: 63.5 cm. Unearthed 1979, tomb of Lou Rui (d. 570 CE), Wangguo Village, Taiyuan, Shanxi Province. Shanxi Museum, Taiyuan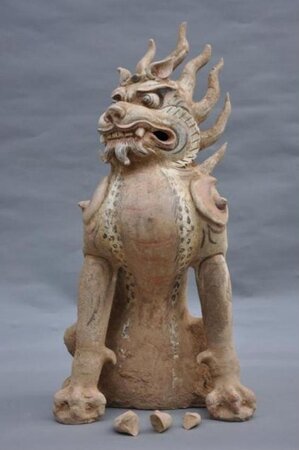 Zhenmushou (Tomb Guardian Beast). Tang dynasty (618–907 CE); Painted and gilt earthenware, 65.7 x 30 cm. Unearthed 2009, Tomb M2, Fujiagou Village, Lingtai County, Gansu Province. Lingtai County Museum, Pingliang
Sarcophagus or Outer Coffin, Northern Wei Dynasty (386–535 CE), 477 CE. Excavated 2000 at Caofulou Village, Shanxi Province. Sandstone, 240 x 348 x 338 cm. Shanxi Museum, Taiyuan
Chicken-Headed Ewer. Northern Qi dynasty (550–577 CE), tomb dated 570 CE. Glazed earthenware, height 50.2 cm. Unearthed 1979, tomb of Lou Rui (d. 570 CE), Wangguo Village, Taiyuan, Shanxi Province. Shanxi Museum, Taiyuan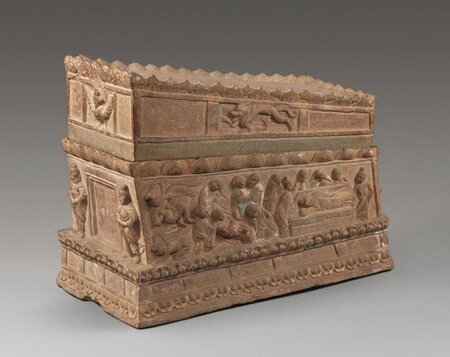 Buddhist Reliquary with the Parinirvana and Ascension of the Buddha. Five Dynasties period (907–960 CE). Painted and gilt stone, 35.7 x 45.6 x 19.4 cm. Unearthed in Lingtai County, Gansu Province. Gansu Provincial Museum, Lanzhou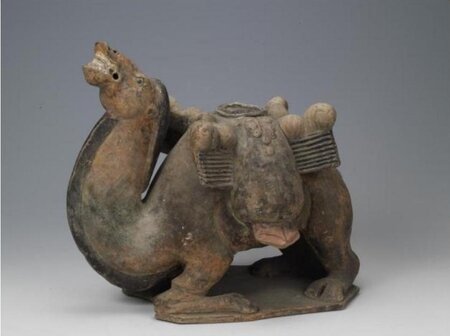 Sitting Camel. Northern Qi dynasty (550–577 CE), tomb dated 570 CE. Painted earthenware, 24.7 x 29.7 cm. Unearthed 1979, tomb of Lou Rui (d. 570 CE), Wangguo Village, Taiyuan, Shanxi Province. Shanxi Museum, Taiyuan