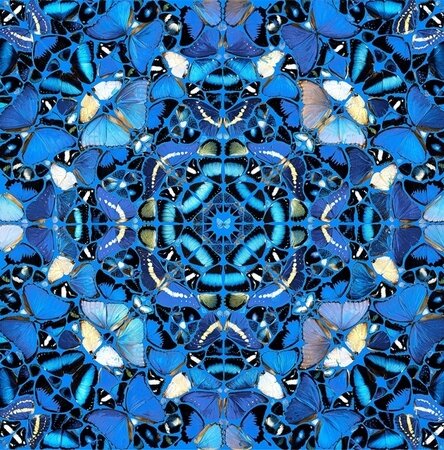 Damien Hirst, 'Seer', 2012.
LONDON.-
London Evening Standard
today unveiled an exclusive cover featuring Damien Hirst artwork to mark the launch of the London 2012 Festival – the beginning of the capital's biggest ever arts extravaganza.
In support of today's official opening day of the festival, the most controversial and most expensive of the Young British Artists has created one of his butterfly works for the London Evening Standard. The cover, created exclusively for the paper's readers, will celebrate Damien Hirst's first ever retrospective at Tate Modern. The retrospective will show off his greatest hits in one of the centerpieces of the London 2012 Festival.
Called 'Seer', the work is made with butterflies and household gloss on canvas and is printed in a specially chosen blue for the Evening Standard, creating a beautiful, stained-glass window luminosity.
In addition to the cover artwork, The London Evening Standard is today also running a nine-page special on the London 2012 Festival in the Arts section. The conventional cover will effectively appear on page 3.
Sarah Sands, Editor at London Evening Standard said; 'We're really excited to be printing this exclusive cover for our readers. It's great to be part of the celebrations for the London 2012 Festival and look forward to twelve weeks of arts in the capital'.
The London Evening Standard is London's only free quality evening title and distributes 700,000 copies a day – reaching out to 1.6 million Londoners. It was bought by Evgeny Lebedev in January 2009 and is edited by Sarah Sands. It has an ABC1 of 74%, of which 69% are 15-44