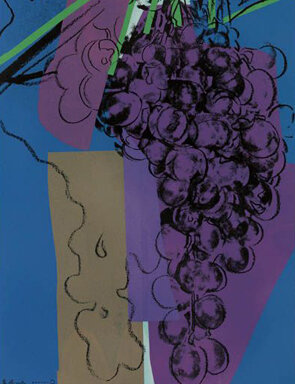 Andy Warhol, Grapes, unique color screenprint, 1979, record price of $64,800 (including premium).
NEW YORK, NY.- The top lot in Swann Galleries' June 14 auction of American Art & Contemporary Art was a unique color screenprint, Grapes, by Andy Warhol, 1979, which brought an auction record price of $64,800*. This special edition print, with diamond dust on Strathmore Bristol paper, was separate from the regular Grapes series issued in an edition of 50.

Other Warhol highlights in the sale included Mimosas, unique color screenprint and acrylic paper collage on canvas, circa 1976, $36,000; Flowers, unique double-sided screenprint, 1970, $24,000; and two circa 1956 pen and ink drawings, Charles Lisanby with Heart, $16,800, and Untitled (Pants), $14,400.

The auction offered two oils on canvas by Harland Miller, in his signature tongue-in-cheek style that reinterprets Penguin Books jacket covers: Incurable Romantic Seeks Dirty Filthy Whore, 2007 brought $52,800; and Too Cool to Die, 2004, $26,400.
Additional unique works among the top Contemporary Art lots were Conrad Marca-Relli's Senza titolo, ink, pen and collage, circa 1955, $28,800; Alfred Leslie's Untitled, oil, gouache, ink and paper collage on board, 1958, $18,000; and Robert Motherwell's Lyric Suite #11, watercolor on Japan paper, 1965, $48,000.

Also by Motherwell was Gesture IV, color aquatint, 1976-77, $19,200. Other prints of note were Roy Lichtenstein's Yellow Brushstroke, color etching, 1985, $19,200, and Brushstrokes, color screenprint, 1967, $16,800; and Ellsworth Kelly's Black Curve, lithograph, 1988, $16,800.

The American Art portion of the sale featured two gouaches by Milton Avery, Sun Worshiper, circa 1932, $21,600 and Seated Man, $18,000; as well as a large abstract oil on canvas by African-American artist Mavis Pusey, titled Carome, which sold for $19,200.

A 20 and 1/2 inch tall bronze sculpture by Jared French of a Standing Male Nude brought $18,000, a record for a sculpture by the artist.

Another top-selling sculpture was Francisco Zuñiga's Mujere sentada, 1982, $14,400.

Notable drawings included José Clemente Orozco's Study for Sleeping (The Family), pencil drawing, circa 1930, $14,400; Abstract Taliesin by Frank Lloyd Wright, mixed-media on cream wove Taliesin stationery paper, circa 1946, dedicated by Wright to Hilla Rebay, his close friend and first curator of the Wright-designed Guggenheim Museum of Art, New York, $10,200; and Paul Cadmus's Seated Male Nude (NM 258), chalk drawing, 1983, $14,400.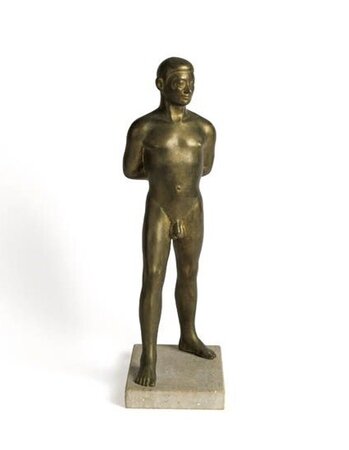 Jared French, Standing Male Nude, bronze sculpture, $18,000 (including premium)--a record for a sculpture by the artist.