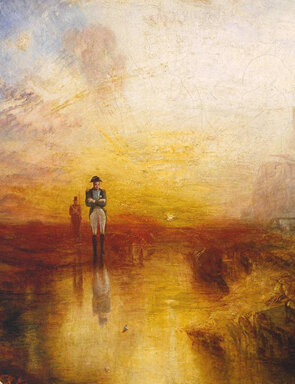 J.M.W. Turner, War. The Exile and the Rock Limpet exh 1842© Tate, 2011.
LIVERPOOL.- J.M.W. Turner (1775-1851), Claude Monet (1840-1926) and Cy Twombly (1928-2011) produced some of their most stunning and experimental works late in life. This summer, Tate Liverpool will bring together a collection of important later works by the three artists for a groundbreaking exhibition.

All three artists were considered radical painters in their time. They met with criticism for pushing the boundaries of the conventions of painting. The exhibition examines not only the art historical links and affinities between the artists, but suggests common characteristics and motivations underlying their late style. The exhibition will explore the artists' fascination with light, landscape, mythology, mortality, romanticism and the sublime – which the artists shared despite living in different eras – in addition to the rich painterly qualities of their work. While their respective approaches are strikingly different, all three artists dealt with the eternal human preoccupations of time and loss, memory and desire.

Displaying over sixty works, the exhibition will treat each artist in considerable depth, with rooms juxtaposing the works of two, or all three, of the artists. Works by Monet and Twombly will be drawn from museums and private collections across the world, while works from Tate's Turner Bequest will be supplemented by loans from American museums.

Tate Liverpool's presentation of the exhibition will include a number of works never before seen in the UK, and will bring together important paintings for the first time. Turner's The Parting of Hero and Leander (exh1837) will be presented for the very first time alongside two works by Twombly of the same title. Twombly's paintings of blooms from 2007, never before seen in this country, will be displayed. The exhibition will also bring together five of Monet's greatest water lily paintings, the first time that five of Monet's water lilies have been brought together in this country for over a decade. Two of these works, The Water-Lily Pond c1917-19 lent by the Albertina, Vienna, and Water Lilies 1916-19, lent by Fondation Beyeler, Riehen, Basel, have never been seen in the UK before.

Turner Monet Twombly: Later Paintings will allow Turner and Monet to be seen within a contemporary context, while demonstrating the strong lure of classicism in the painting and sculpture of Twombly. The interest Monet held in the work of Turner is well documented; however, the passion that Twombly has for both these artists has never been fully examined. For those already familiar with the artists' work, it will be a revelation; for new audiences, it is a fascinating introduction.

Turner Monet Twombly: Later Paintings is organised by Moderna Museet, Stockholm (8 October 2011 - 15 January 2012) in collaboration with Tate Liverpool and Staatsgalerie Stuttgart (11 February – 28 May 2012). The exhibition is curated by Jeremy Lewison, formerly Tate Director of Collections and now an independent curator, assisted by Jo Widoff, Moderna Museet and at Tate Liverpool by Eleanor Clayton.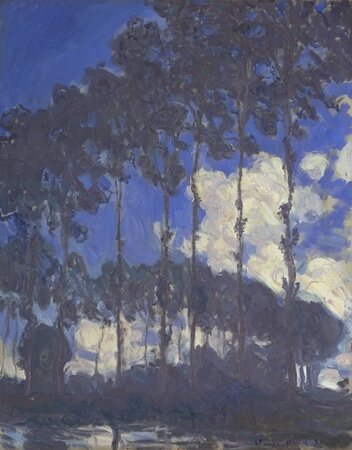 Claude Monet, Poplars on the Epte 1891© Tate, 2011.