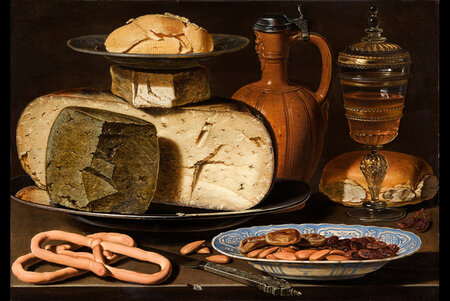 Clara Peeters: Still Life with Cheeses, Almonds and Pretzels from circa 1615

THE HAGUE.-
The Mauritshuis
had the opportunity to purchase an exceptional painting by Clara Peeters: Still Life with Cheeses, Almonds and Pretzels from circa 1615.
Clara Peeters (c.1580/1590–in or after 1621) is one of the few women painters of the seventeenth century. She was active from 1607 to 1621 and probably came from Antwerp. All of her paintings were still lifes, mainly banquet pieces with simple foodstuffs and valuable tableware. The painting recently purchased by the Mauritshuis is one of her best works.
A pewter plate holds some crumbly cheeses, on top of which is an earthenware plate with curls of butter. Figs, almonds, and raisins lie in a Wan Li porcelain dish, behind which a Venetian glass (decorated with gilt) is on display beside an earthenware jug. Other items lie loose on the table: a roll, some pretzels and a richly decorated knife.
Clara Peeters excelled at painting banquet scenes of this type. That much is evident from her handling of the crumbly cheeses and the creamy curls of butter. One splendid detail is the hole made with a cheese scoop in the large wedge of cheese by the inspector to evaluate the centre of the cheese. The striking silver bridal knife is decorated with figures representing the virtues of Faith and Moderation and two intertwined hands. Clara Peeters placed her signature on this knife. The pewter lid of the earthenware jug shows the reflection of a woman's face with a white cap – a self-portrait. This was Clara's second signature.
The Still Life with Cheeses, Almonds and Pretzels makes a marvellous addition to the still life collection at the Mauritshuis. The museum was able to acquire the painting thanks to the support of the Friends of the Mauritshuis Foundation, the BankGiro Lottery and the Rembrandt Society, also thanks to the Prins Bernhard Cultuur Fonds and the A.L. Roeters- van Lennep Fund of the Rembrandt Society.
The painting is on show in the Gemeentemuseum Den Haag.