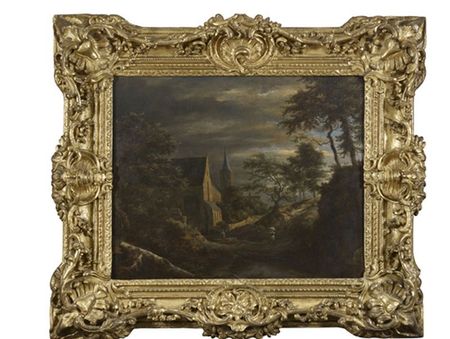 Jacob van Ruisdael (Haarlem 1628/1629 - Amsterdam 1682), Un vieux monastère. Photo Cornette de Saint Cyr
Toile: 69,5 x 85 cm. Signé en abs à droite Ruis… Lot 15. Estimation : 220 000 / 300 000 €

Provenance : Collection Baron Etienne Martin de Beurnonville, Paris ;
Vente Beurnonville (Baron E. de), Paris, Hôtel Drouot (Maître Pillet), 9-16 mai 1881, n° 446 ;
Chez Sedelmeyer, Paris ;
Collection Ernest Dervaux;
Resté dans la collection de la famille de ce dernier.

Bibliographie : C. Hofstede de Groot, A Catalogue raisonné of the works of the most eminent Dutch painters of the seventeenth century, vols I- 4, Cambridge, 1976, volume IV, n° 780 (Jacob van Ruisdael) ;
S. Slive, Jacob van Ruisdael. A Complete Catalogue of His Paintings, Drawings and Etchings, New Haven et Londres, 2001, n° 545 (Jacob van Ruisdael).

Ruisdael prend beaucoup de liberté dans la representation de ses paysages, dans lesquels il rassemble de nombreux motifs qu'il reutilise.
Il est difficile d'identifier exactement les lieux représentés.
Les bâtiments architecturaux de notre tableau, spécialement la tour clocher, se rapprochent beaucoup des vues que peint Ruisdael de l'église de saint Agathe à Beverwijk, un petit village au nord de Haarlem.
Il a peint l'église dans son Paysage avec vue d'un chateau en ruine conservé à la National Gallery de Londres (Toile, 109 x 146 cm).
Le clocher de notre monastère est très proche aussi de la tour de l'église medieval saint Simon et saint Jude du petit village près de Bentheim, à la frontière avec l'Allemagne, Ootmarsum, démolie au début du XIXème siècle et que
Ruisdael peint dans son Paysage avec vue sur la tour d'Ootmarsum (Toile, 59,1 x 73,2 cm) conservé à la Alte Pinakothek de Münich (voir respectivement S. Slive, op. cit. supra., n° 44 et 79, reproduits en couleur).
Cornette de Saint Cyr - Paris. Mercredi 27 juin 2012. Drouot Richelieu - Salle 10. Tel. + 33 (0)1 48 00 20 10