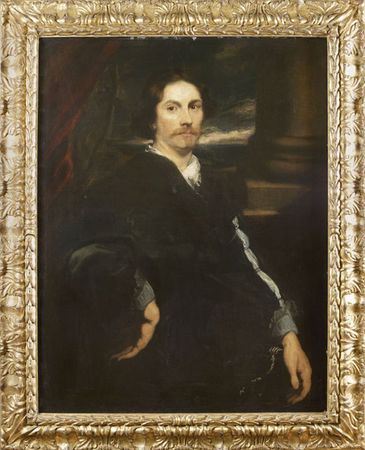 Ecole flamande du XVIIIème siècle, suiveur d'Anton van Dyck, Portrait d'homme à l'épée. Photo Cornette de Saint Cyr
Toil; 114 x 89 cm. Lot 9. Estimation : 12 000 / 15 000 €

Notre tableau reprend le tableau conservé au Kunsthistorisches Museum de Vienne (voir S.J. Barnes, N. de Poorter, O. Millar, H. Vey, Van Dyck, A complete catalogue of the painting, Yale, 2004, n° I-146, reproduit p. 128) dont le format original nous est donné par la version du Louvre de qualité un peu plus faible (voir le Catalogue
sommaire illustré des peintres du musée du Louvre, Ecole flamande et hollandaise, Paris, 1979, INV. 1248, reproduit p. 53).

L'homme portraituré a parfois été identifié comme le portrait du peintre Paul de Vos ou encore celui de Jan Boeckhorst.
Cependant, la présence de l'épée, éléments de noblesse, exclut ou rend très peu probable cette identification.
Cornette de Saint Cyr - Paris. Mercredi 27 juin 2012. Drouot Richelieu - Salle 10. Tel. + 33 (0)1 48 00 20 10