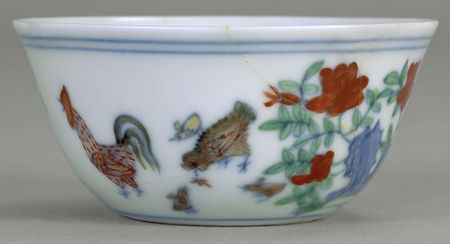 Chicken cup, Ming dynasty, Chenghua mark and period (1465–1487). © 2000–2012 The Metropolitan Museum of Art
Porcelain painted in underglaze blue and overglaze enamels. D. 3 1/4 in. (8.3 cm). Purchase, Mrs. Richard E. Linburn Gift, 1987 (1987.85).
It is possible that the patronage of the emperor's favorite, Wan Gufei, was responsible for the promotion of several decorative techniques at the Jingdezhen kilns. Premier among these is the fabled Chenghua doucai ("contrasting colors" or "contending colors"), which is a combination of two ornamental processes. Indoucai decoration, designs were completely outlined in cobalt blue on the unfired vessel, and a few areas of blue wash were painted in as well. After glazing and the usual high-temperature firing, the outlines were filled in with overglaze red, green, yellow, and aubergine enamels that were then fired at low temperatures.Doucai-style enameling was usually reserved for intimate objects of exquisite refinement, and the rare examples of Chenghua date are some of the most highly treasured of all Ming-dynasty porcelains.