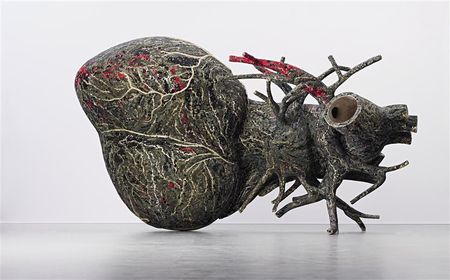 Bharti Kher, An Absence of Assignable Cause, 2007. Photo Phillips de Pury & Company
bindis on fiberglass; 173 x 300 x 116 cm (68 1/8 x 118 1/8 x 45 5/8 in). This work is number 1 from an edition of 3 unique variations. ESTIMATE £150,000-250,000 - SOLD AT £181,250
PROVENANCE : Jack Shainman Gallery, New York
Acquired from the above in 2007
EXHIBITED : New York, Jack Shainman Gallery, Bharti Kher: An Absence of Assignable Cause, 15 November – 22 December 2007
London, Serpentine Gallery, Indian Highway, 10 December 2008 – 22 February 2009, then travelled to Oslo, Astrup Fearnley Museum of Modern Art (2 April – 23 August 2009), Hernig Museum of Contemporary Art (13 March – 12 September 2010) (another example exhibited)
London, The Saatchi Gallery, The Empire Strikes Back: Indian Art Today, 29 January – 8 May 2010
Kunstmuseum Thun, Susan Hefuna, Bharti Kher, Fred Tomaselli: Between the Worlds, 1May– 27 June 2010 (another example exhibited)
Lille 3000, The Silk Road, Saatchi Gallery Collection, 20 October 2010 – 23 January 2011
LITERATURE ; Indian Highway, exh. cat., London: Serpentine Gallery, 2009, p. 109 (another example illustrated)
The Empire Strikes Back: Indian Art Today, exh. cat., London: The Saatchi Gallery, 2010, p. 142 (illustrated in colour)
The Silk Road, Saatchi Gallery Collection, exh. cat., Lille 3000: Lille, 2011, p.53 (illustrated in colour)
"In the art of Bharti Kher, the bindi that Hindu women wear on their foreheads becomes a motif that links tradition and modernity, East and West." PERNILLA HOLMES

An Absence of Assignable Cause is a mesmerising work by Bharti Kher who is now widely regarded as one of the most celebrated female artists of our time and a frontrunner of Indian contemporary art. Drawing on her personal background as an Indian woman born and raised in London and who returned to her native country as an adult, the artist explores through her work the concepts of tradition, identity, femininity, as well as the issues of contemporary society in India and internationally. The bindi, the spot worn by Hindu women to represent the third eye, is the key characteristic of Kher's body of work, and a central material used by the artist in the present lot. The bindi has been very popular with Kher for its attractive material qualities, as well as its meaning – it is believed that Hindu women can instil faith by this object, as it facilitates the link between the spiritual and real worlds. By continuously using the same motif, the artist creates her own language and different layers of meaning that make her works so distinctive and interesting to explore.

Executed in 2007, An Absence of Assignable Cause represents a lifesize heart of the blue-sperm whale, one of the world's largest animals, decorated throughout with multicoloured bindis of various sizes that create a beautifully textured, abstractly decorated surface. Kher, being unable to find the necessary anatomical information about the animal, used her imagination to create the heart. Kher plays with paradox in the work by choosing the most vulnerable part of the body but of the largest animal. In exposing the fragility of life of an animal already close to extinction, Kher opens up questions about the values of modern society.

Kher's work is filled with allegories and references to mythical creatures could be seen to find inspiration in the work of Old Masters, such as Hieronymus Bosch and Francisco Goya. Rooted in traditionalism, the artist has found her own way to raise the issues important to her: "Like many great works, hers are ambiguous in their meaning. Bharti's works show a very relevant negotiation with old India and present – the idea of memory is very important but used in a dynamic way. It's a productive tension between tradition and modernity" (Hans Ulrich Obrist, 'Connecting the Dots', ARTnews, April 2009).
Phillips de Pury & Company. Contempory Art. 28 june 2012. London http://www.phillipsdepury.com