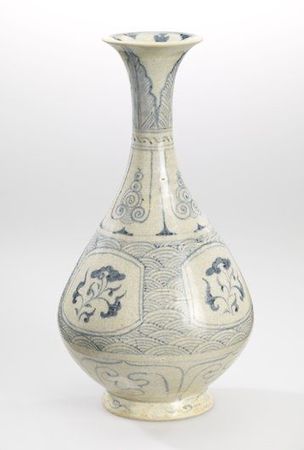 Bottle Vase (Yu-hu chun). Vietnam, late 15th century.
Slip-covered stoneware with underglaze cobalt blue decor. 10 5/8 x 5 11/16 x 5 11/16 in. (26.99 x 14.45 x 14.45 cm). The Suzanne S. Roberts Fund for Asian Art. AN: 2007.19.2. The Minneapolis Institute of Arts
The inspiration for Vietnamese blue-and-white wares was derived from China. The Vietnamese potters were more than mere copyists, however, and they developed a wide range of decorative motifs including peonies, lotuses, birds, flowers, animals, fish, and even landscapes. This elegant pear-shaped bottle is closely related to Chinese prototypes both in shape and decoration. The floral panels painted in underglaze blue are set against a wave background. Cloud whirls adorn the neck, plantain leaves appear below the rim, and lotus leaf lappets encircle the base.