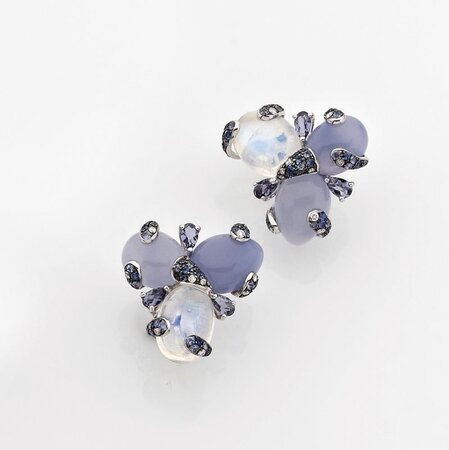 Paire de clips d'oreilles en fleurette de trois cabochons de calcédoine et de pierres de lune, Photo Hôtel des Ventes de Monte-Carlo
soulignés de diamants, de saphirs et de iolites taillées en poire. Poids : 17,5 g. Lot 141. Estimation : 2 500 / 3 000 €

A pair of chalcedony, moonstone, iolite, diamonds, sapphire and gold ear clips.
Hôtel des Ventes de Monte-Carlo - 98000 Monaco. Mardi 17 juillet 2012. Hôtel Monte-Carlo Bay - 40, Avenue Princesse Grace - 98000 Monaco. Tel 00 377 93 25 88 89