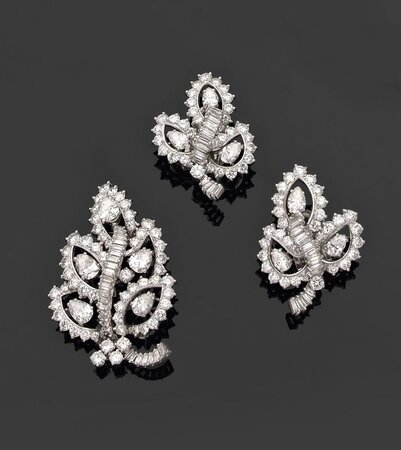 Boucheron. Demi-parure en or gris. Photo Hôtel des Ventes de Monte-Carlo
comprenant une broche en forme de feuille entièrement sertie de diamants poires, baguettes et ronds et une paire de clips d'oreilles assortis. Très belle qualité de pierres. Signés, la broche numérotée. La broche et les clips chacun dans leur écrin de la maison Boucheron. Poids : 34,7 g - Lot 153. Estimation : 22 000 / 25 000 €

A demi-parure by Boucheron comprising a diamond and gold brooch and its assorted pair of earclips.
Hôtel des Ventes de Monte-Carlo - 98000 Monaco. Mardi 17 juillet 2012. Hôtel Monte-Carlo Bay - 40, Avenue Princesse Grace - 98000 Monaco. Tel 00 377 93 25 88 89