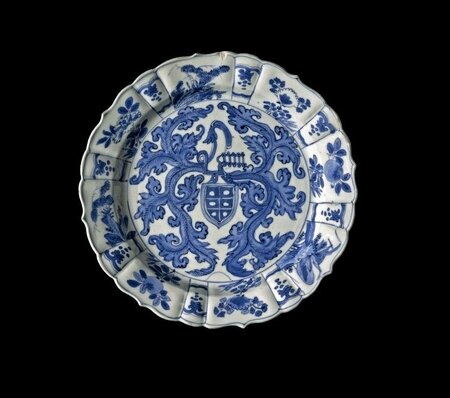 Dish, porcelain, 1600-1620. Wanli (probably), Ming dynasty. Registration number: 1925,0512.1. © The Trustees of the British Museum
Diameter: 20.2 centimetres. Height: 3 centimetres.

Porcelain dish with bracket-lobed rim and 'kraak'-type underglaze blue decoration. This shallow dish has moulded sides, a bracket-lobed rim and a low foot ring. It is painted in underglaze blue with fruit and flower spray panels and emblems in the style of 'kraak' porcelain in the rim and cavetto, but the centre is unusually decorated with a stylized coat of arms surmounted by a misunderstood helmet (the Chinese potters had attempted to copy the latter but failed) and framed by lavish curly plumes.
Harrison-Hall 2001:
The coat of arms has been attributed to Don Joao de Almeida, a Portuguese chief captain, who settled in Macao around 1570. Two other dishes are painted with the same coat of arms and plumes but reserved in white on a blue ground, one of similar form in the Museu do Caramulo, Portugal, the other, with scalloped border, in the Musee National des Arts Asiatiques, Guimet, Paris, France.
Porcelains made after European ceramic, glass, leather and metal-work shapes, as well as those decorated in European style with mottoes, coats of arms or designs copied from coins or printed sources, represent a tiny proportion of the total number of Chinese porcelains traded with Europe.