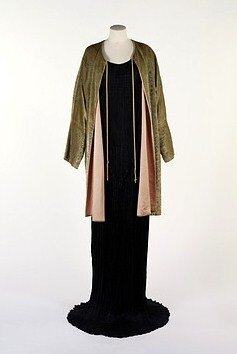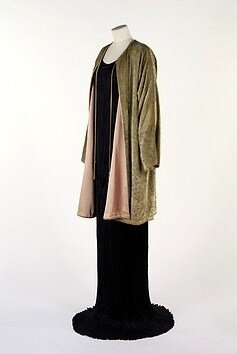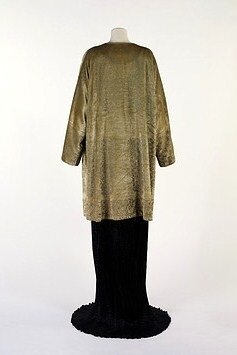 Mariano Fortuny (born 1871 - died 1949), Delphos dress., ca. 1920. Silk satin trimmed with ceramic beads, permanently pleated. Given by Elizabeth Sarachi Milburn. Museum number: T.150-2004. Victoria & Albert Museum © V&A Images
The 'Delphos' dress was inspired by the draped costume on Greek statuary. The designer Mariano Fortuny (1871-1949) registered his design in 1909. He achieved the column-like effect through his patented process of permanently pleating the silk so that it clung to the contours of the body.
This particular dress was worn by Elizabeth Sarachi Milburn, who was a society figure with an excellent taste in fashion. It illustrates Fortuny's use of luxurious fabrics and rich trimmings combined with his signature pleats.
The multi-talented Fortuny was a painter, theatre designer, photographer, inventor and scientist. However, he is best known as a creator of extraordinary fabrics and clothes. His distinctive creations were worn by avant-garde beauties throughout the world from about 1910 to the 1930s.