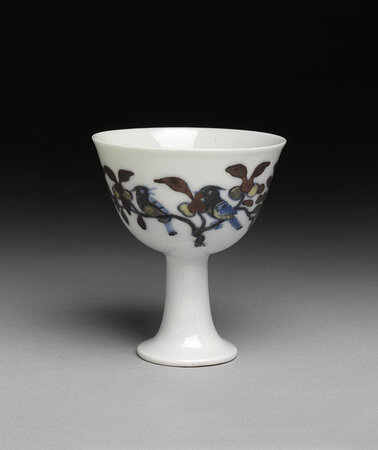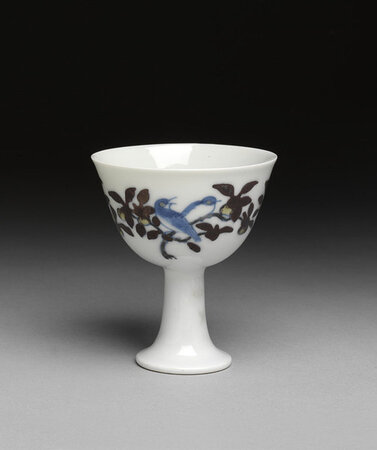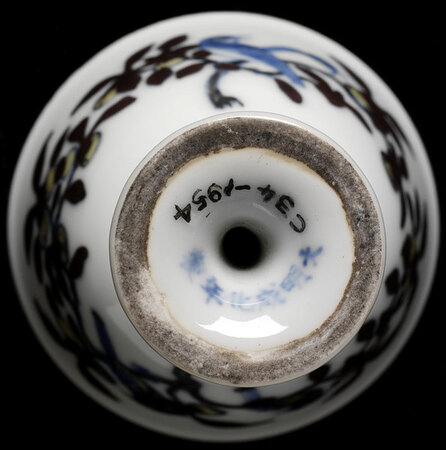 Stemcup, painted on the outside in underglaze blue and overglaze polychrome enamels in doucai style with two branches with large leaves and fruit and two pairs of birds. Chenghua mark and period (1465-1487), Ming dynasty. Jingdezhen kilns, south China. Height: 7.62 cm. Museum number: C.34-1954. Victoria & Albert Museum © V&A Images
From register; sold to Messrs Bluett at Sotheby's, May 11th 1954, lot 17, the 'Property of a Gentleman' (known to be a Mr Collingwood, who acquired it from the Oliphant collection in Scotland). The stem-cup has been in a fire, which has discoloured the enamels and the unglazed edge of the foot ring.
This porcelain wine cup is painted with a technique known as doucai (literally: 'contrasting colours'), particularly popular during the Ming dynasty (1368-1644). The contours of the drawing were painted in underglaze blue and then filled with coloured overglaze enamels, which required a second firing.
The vessels produced at the imperial kilns of Jingdezhen during the Chenghua reign (1465-1487) were particularly fine, and were imitated in subsequent periods keeping the earlier Chenghua mark.