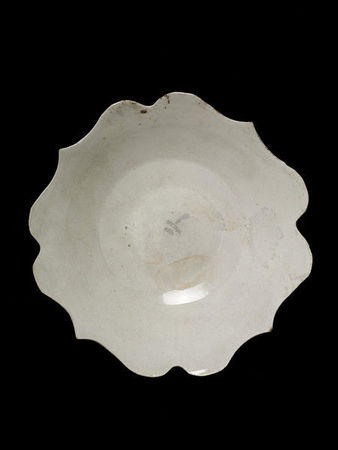 Dish, porcelain of Ding type, China, Northern Song dynasty, 960-1050. Victoria & Albert Museum © V&A Images
Diameter: 14 cm. Eumorfopoulos Collection. Purchased with the assistance of The Art Fund, the Vallentin Bequest, Sir Percival David and the Universities China Committee. Museum number: CIRC.111-1936
White porcelain dish with foliate rim, Ding type with an ivory-toned glaze. It has a buff-white body, a shallow-foot and an unglazed base. On the base and beneath the glaze are painted marks, possibly to denote the dish's destination.
A 'foliate' rim has tiny notches that subtly suggest the shape of flower petals.
Bibliographic References: Kerr, Rose. Song Dynasty Ceramics. London: V&A Publications, 2004. p. 42, nos. 33 and 33a.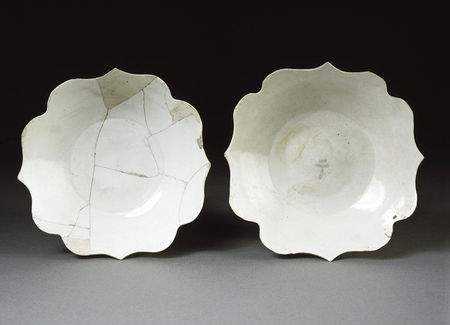 These two dishes are examples of Xing ware (left) and Ding ware (right). Xing and Ding wares were of the earliest true porcelains made in China, and the world. The term porcelain is applied to ceramics made from a mixture containing a of clay called kaolin and a white stone called petuntse, which was fired at high temperatures. Porcelains differ from other ceramics in their impermeability, their whiteness and fine texture.
Xing and Ding wares were both made in kilns in the Hebei province of China during the Northern Song dynasty (960-1127). Although they look very similar, subtle differences in the glaze and the body of these dishes can link them to the wares produced in their respective places of origin, the cities of Xing yao and Ding yao.