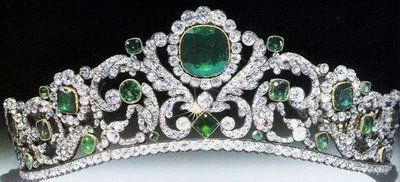 The tiara of Marie~Thérèse, duchesse d'Angoulême.
One glorious piece from the collection is the tiara of Marie~Therese the only living child of Marie~Antoinette & Louis XVI. It is a beautiful Emerald and diamond tiara in a symmetrical design of scrolling foliage, mounted with over a thousand diamonds set in silver, and 40 emeralds set in gold.
The royal jewelers who were assigned the task of designing and crafting the tiara were the Bapst brothers. They used 14 of the largest emeralds from the crown collection. They also added 26 other smaller emeralds to the tiara, making a total of 79.12 carats of emeralds. Before leaving for exile in Britain, Marie~Therese delivered the tiara to the French treasury. Over the years the tiara passed through many hands and was sold many times eventually landing in the V&A in London. The Louvre recently negotiated a very large sum of money to acquire the tiara and it is now housed there.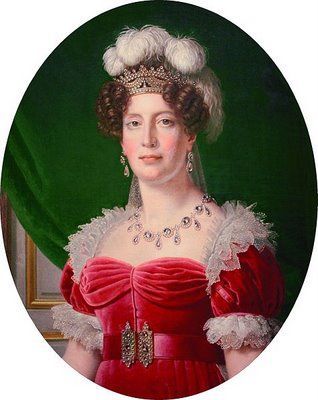 Marie-Thérèse, Duchesse d'Angoulême